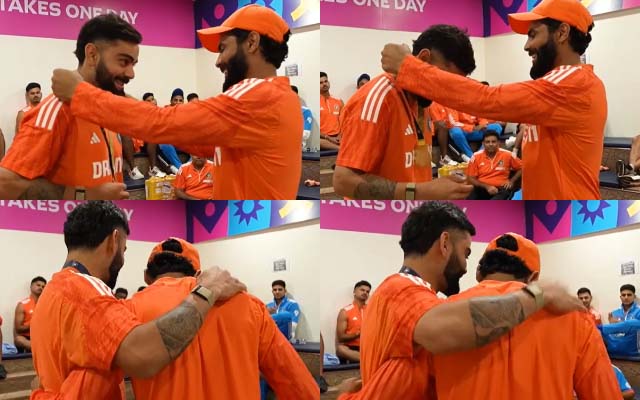 After the final World Cup match, Virat Kohli received the Best Fielder medal from coach T Dilip for his exceptional performance, shared in an emotional atmosphere without celebratory fanfare.
India concluded their World Cup journey as runners-up to Australia, marking the final moment for the team. Despite the heartbreak, the players gathered in the dressing room for a touching moment – the awarding of the Best Fielder medal by coach T Dilip. Known for creative announcements, this time, it was Virat Kohli who received the honor for his exceptional performance in the final.
The atmosphere was emotional, devoid of loud celebrations. Previous medal winner Ravindra Jadeja handed Kohli the gold medal for his remarkable catch of David Warner in the slip and his overall spirited fielding display throughout the game.
Virat also clinched the Player of the Tournament title with 765 runs in 11 matches, featuring three centuries.
Australia claimed their sixth World Cup by defeating India by 6 wickets at Narendra Modi Stadium on November 19th.
India's batting fell short, but Bumrah and Shami's early brilliance secured three wickets, pressuring Australia. However, India's spinners struggled on an unresponsive pitch, aiding Australia's dominance. Despite a strong start, India couldn't sustain, allowing Head and Labuschagne to flourish.
Captain Cummins led Australia's bowling, restricting India to under 250. Head and Labuschagne's unexpected 192-run partnership, with Head's century, steered Australia to victory before Maxwell's decisive contribution.
Last Updated on November 20, 2023