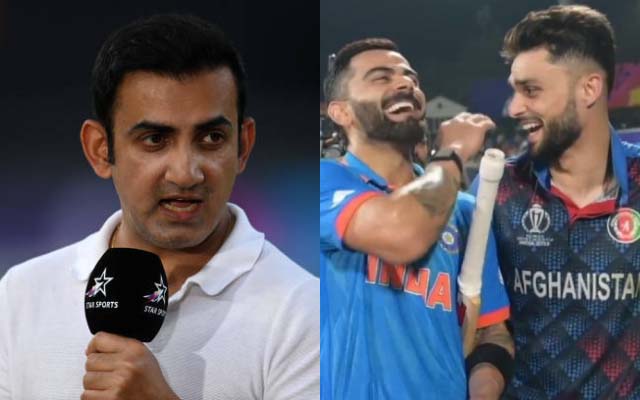 Gautam Gambhir, who had his own involvement in a prior spat during the IPL, commended Virat Kohli's sportsmanlike conduct and encouraged moving on from the incident.
In a dramatic turn of events, Virat Kohli's embrace and shared laughter with Naveen-ul-Haq during the India vs. Afganisthan clash on October 11, Wednesday, marked a striking contrast to their heated exchange during an IPL match in May 2023. The verbal spat had stirred a social media frenzy of trolling and criticism. The cricketing world applauded Kohli's reconciliatory actions, acknowledging them as a testament to sportsmanship.
Former Indian opener Gautam Gambhir, who had his own involvement in the IPL spat, joined the chorus of appreciation, emphasizing the need for cricketers to leave their on-field conflicts behind and move forward.
"Leave the fight there itself. Every player has the right to fight for his team, fight for respect, and fight to win. It doesn't matter which country you belong to or how good of a player you are. There have been tussles in the past, but it's important to leave the matter there itself and just move on," Gambhir said when speaking to sports presenter Jatin Sapru.
Gambhir also expressed his discontent with the crowd's behavior and urged them to display more sensibility in the future to ensure that overseas players have positive experiences when they visit. He highlighted that only a few individuals truly knew what had transpired on the field while the rest were left in the dark.
Gautam Gambhir is happy to see the patch-up and praises Virat Kohli for his gesture. Also, urges fans to be better ambassadors for the game in upcoming matches.

🎬 :- @jatinsapru pic.twitter.com/KLJV14L101

— Abhishek Ojha (@vicharabhio) October 12, 2023
Kohli's act of asking the crowd to stop booing Naveen during the India vs. Afghanistan match in Delhi also earned praise from Gambhir, who deemed it a great gesture.
"That's a great gesture. And I hope the crowd continues to see such gestures of Virat in the forthcoming matches. People in the outside world haven't experienced what unfolds on the field. So, if you can't support someone then please don't criticize as well," he added.
Gambhir concluded by encouraging fans to support their favorite players but also urged them to also be positive ambassadors for their country, striking a balance between loyalty and sportsmanship.
Last Updated on October 12, 2023