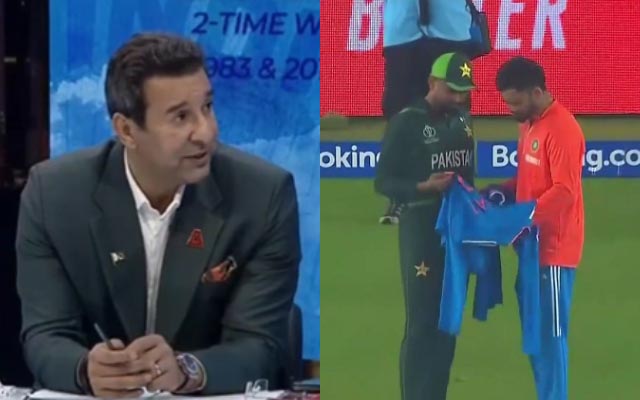 Wasim Akram criticized Babar Azam for requesting Virat Kohli's signed jersey immediately after Pakistan's significant loss to India in the ICC Cricket World Cup, deeming it an ill-timed move.
In the ICC World Cup 2023 match at Narendra Modi Stadium in Ahmedabad, India secured a convincing 7-wicket victory over Pakistan. In a packed stadium of around 100,000 spectators, Indian bowlers limited Pakistan to a mere 191 runs. Skipper Rohit Sharma contributed an explosive 86 runs, and Shreyas Iyer scored an unbeaten 53, leading India to its eighth consecutive victory over Pakistan in Men's ODI World Cups.
Following the game a heartwarming moment unfolded between Pakistan's captain, Babar Azam, and India's star batter, Virat Kohli. Kohli was seen presenting Babar with a signed Indian jersey, a gesture that quickly went viral on social media. The two players also exchanged few words on the field before heading to their respective team hotels.
READ MORE | Virat Kohli Gifts a Signed Jersey for Pakistan's Skipper Babar Azam After IND vs. PAK Clash
Former Pakistan captain Wasim Akram expressed his strong disapproval of the timing of Babar Azam's request for a signed Indian team shirt from Virat Kohli, describing it as inappropriate and frustrating following Pakistan's significant loss to their arch-rivals. During a debate on Ary News, Wasim passionately conveyed that if the captain's cousin had sought an Indian jersey with Kohli's autograph, it would have been more suitable to approach the dressing room after the match rather than on the field in front of cameras.
"Today was not the day to do this. Agar chacha ke puttar ne keh diya hai ki t-shirt chahiye Kohli ki to match ke baad dressing room se le sakte the," Wasim told on Ary News.
Wasim Akram says Babar Azam shouldn't have asked for Virat Kohli's shirt after Pakistan's big defeat against India tonight. It wasn't the right time to do that! Do you agree? #CWC23 #INDvsPAK pic.twitter.com/csFm2TmToV

— Farid Khan (@_FaridKhan) October 14, 2023
In the 2023 Cricket World Cup edition, Rohit Sharma achieved a milestone by becoming the first Indian batsman to amass 200 runs. With a total of 217 runs in three matches, he ranks third, trailing Mohd Rizwan (248) of Pakistan and Devon Conway (229) of New Zealand. This performance also elevated Rohit's overall World Cup aggregate to 1195 runs in 20 innings across 20 matches, surpassing Chris Gayle's 1186 runs.
With this victory, India secured their eighth World Cup win over Pakistan, maintaining their dominance since 1992.
Last Updated on October 15, 2023