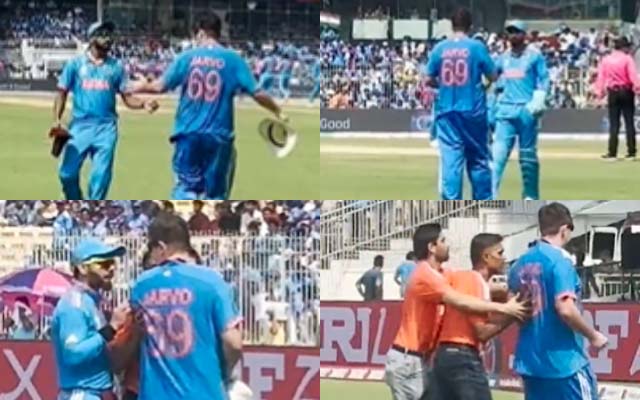 Jarvo, the YouTuber known for interrupting matches, made a World Cup debut during the India vs. Australia game at the MA Chidambaram Stadium, briefly chatting with players before security removed him.
Famous English YouTuber Daniel Jarvis, also known as Jarvo, renowned for his history of disrupting international matches, marked his World Cup debut with an on-field intrusion during India's opening clash against Australia at Chennai's MA Chidambaram Stadium. Jarvo, previously in the limelight for similar antics during India-England matches in 2021, engaged in a short conversation with Virat Kohli and KL Rahul before security personnel swiftly removed him.
His unexpected appearance sent shockwaves across the internet, with the incident going viral on various social media platforms. Kohli's frustration was evident, as such disruptions tend to disrupt the match's rhythm, and he attempted to persuade Jarvo to exit the field.
Jarvo 69 Making his long-awaited Cricket World Cup debut for India! #jarvo69 #jarvo pic.twitter.com/8TXFr3Z8OH

— Jarvo69 (Daniel Jarvis) (@BMWjarvo) October 9, 2023
Jarvo's intrusion marked his fourth international game disruption involving India, leading to an ICC ban. Questions persist regarding his access to the VIP area and how he breached multiple security layers to reach the Field of Play.
An ICC spokesperson confirmed that the person responsible for the breach has been banned from attending further matches at the event, and the matter is now under the jurisdiction of Indian authorities.
Jarvo had previously been banned from English cricket grounds because he repeatedly exploited security weaknesses during the 2021 series against India, often entering the playing area without being taken seriously by security.
The ICC stressed its commitment to the safety and security of everyone involved in the ICC Men's Cricket World Cup 2023. They stated their intention to collaborate with the venue to investigate the incident thoroughly and assess whether additional security measures are necessary.
"The safety and security of everyone involved in the ICC Men's Cricket World Cup 2023 is our priority. We will work with the venue to understand what happened and consider if any additional security measures are required to prevent it happening again", the ICC spokesperson's statement read.
Last Updated on October 10, 2023