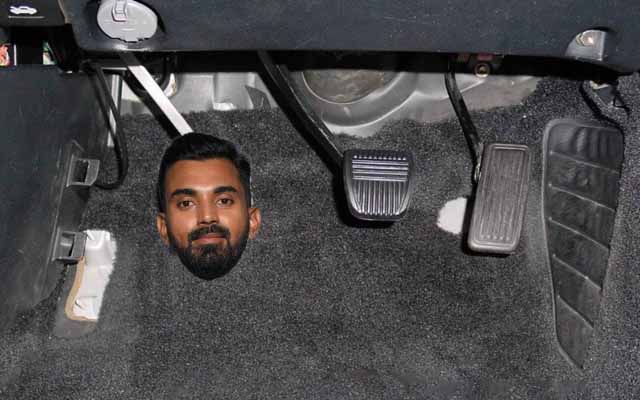 After KL Rahul's stellar innings, the Royal Challengers Bangalore's "KLutch Rahul" meme, celebrating his innings control, backfires with fans finding it disrespectful.
On October 8, Sunday, KL Rahul delivered a historic performance for India in the World Cup, guiding them to a remarkable six-wicket victory over Australia at Chennai's MA Chidambaram Stadium.
After KL Rahul's impressive innings, the official Royal Challengers Bangalore social media account shared a meme celebrating his performance, labeling him "KLutch Rahul." Although he missed a century, his batting was a flawless 100 out of 100. The meme humorously depicted Rahul's face on a car's clutch, symbolizing his ability to control his innings with precision, smoothly adjusting the pace as needed, all while handling immense pressure expertly.
KLutch Rahul.

He couldn't complete his ton but that was surely a 💯/💯 performance! 🙌#PlayBold #TeamIndia #CWC23 #INDvAUS pic.twitter.com/5COrSrh2L0

— Royal Challengers Bangalore (@RCBTweets) October 8, 2023
Contrary to expectations, the meme has triggered an unexpected backlash among fans, with many expressing their disapproval and finding it disrespectful toward the player.
Admin running out of memes 😂 shameful

— Gabbar (@YoGabbarSingh) October 8, 2023
Delete this tweet bro

— Sidagoud Patil (@SidagoudPatil4) October 8, 2023
He surely deserves a better place than this.🤦‍♂️

— Mir Ansar-ul Haq🌟 (@AnsarUlHaqMir) October 8, 2023
Please remove this meme.. It is quite hurtful and a disgrace.
Expected better from you.

— Sai (@Kerspindier) October 8, 2023
Entering the crease with India at a troubled 2-3, Rahul partnered superbly with Virat Kohli, forging a pivotal 165-run stand. Kohli's 85 showcased his skill as a chase-master. Following Kohli's departure, Rahul shouldered the responsibility, steering India to a win with 52 balls to spare, securing two crucial points against a formidable opponent in the tournament.
In a bittersweet moment, KL Rahul struck a six that sealed India's victory when they needed just five runs to win. Rahul was batting brilliantly at 91, temptingly close to his second century in the ODI World Cup. However, his final unbeaten score stood at 97, leaving him visibly disheartened. His reaction, a mix of shock and disappointment, quickly became a viral sensation. A boundary followed by a six would have granted Rahul that century, but his impeccable timing ensured the ball sailed over the boundary instead.
After receiving the Player of the Match award, Rahul revealed his aspirations for a century. "I hit it too well. I was just calculating how I could get to a hundred at the end. The only way I could get to a hundred was to hit a four and then a six. That's what I planned, but hopefully some other time I can get the hundred" said Rahul.
Last Updated on October 9, 2023