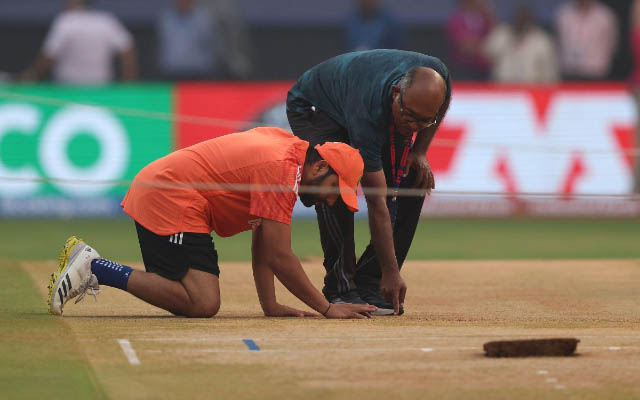 Amidst the controversy surrounding the pitch switch ahead of the World Cup semifinal, Michael Vaughan and Darren Lehmann voiced their opinions, while the ICC issued a clarification for the change.
Reports surfaced just before the ICC Cricket World Cup 2023 semi-final toss between India and New Zealand, indicating a sudden shift to a slow, previously used pitch at Mumbai's Wankhede Stadium. Allegations arose against the Indian team management, accusing them of orchestrating pitch preferences favoring their bowling.
The Indian Express stated that the Wankhede curator received instructions for a slower pitch after India's last league match against the Netherlands in Bengaluru, with the removal of grass as per requests cited by a Mumbai Cricket Association (MCA) official.
READ MORE | Surprise Pitch Switch: India-New Zealand World Cup Semi-Final Moved to Used Surface
Responding to the reports, Michael Vaughan emphasized the necessity for a World Cup semi-final to occur on a fresh pitch, considering it straightforward. Meanwhile, Darren Lehmann firmly stated that the use of a fresh pitch for ICC events should not even be a matter of debate but an unequivocal requirement.
A World Cup semi should be played on a fresh pitch .. It's as simple as that .. https://t.co/dRf6rlTO2O

— Michael Vaughan (@MichaelVaughan) November 15, 2023
Fresh pitch for ICC events a must . Not even a question , just should happen. 🤷‍♂️

— Darren Lehmann (@darren_lehmann) November 15, 2023
The ICC addressed the pitch controversy, explaining that alterations in planned pitch rotations are typical toward the conclusion of an extended event like this tournament. The change to a used pitch was recommended by the venue curator along with the host. The ICC's independent pitch consultant, Andy Atkinson, was informed of this change and holds confidence that the pitch will perform well, as conveyed by an ICC spokesperson.
As per ICC's World Cup Playing Conditions, the responsibility for pitch selection and preparation lies with the ground authority, in this case, the Mumbai Cricket Association.
Daily Mail reported that Atkinson expressed frustration due to changes disrupting pre-agreed plans during the World Cup. In a leaked email, Atkinson questioned if the final in Ahmedabad might be the first ICC CWC final with a pitch tailored to team management or the home nation board's request, deviating from usual stipulations.
Last Updated on November 15, 2023