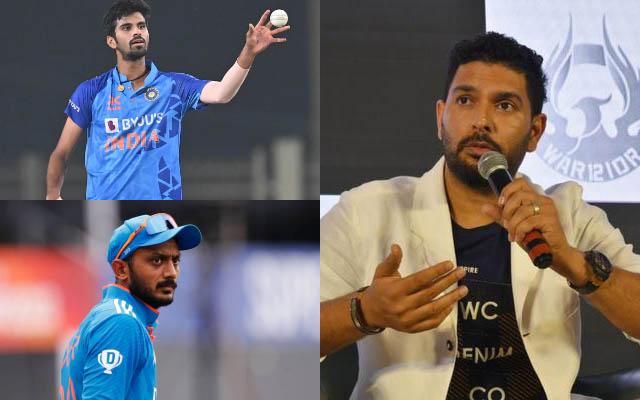 Yuvraj Singh believed that due to Washington Sundar's dual abilities as a left-handed batter and an off spin bowler, he would be the natural choice for the World Cup squad, but unfortunately, he wasn't selected.
On the final squad announcement deadline for the ICC Cricket World Cup 2023, India faced an unexpected twist. Due to an injury sustained by Axar Patel during the Asia Cup in Sri Lanka, he was replaced by Ravichandran Ashwin in the squad. Remarkably, Ashwin, who had not played an ODI in almost 20 months, demonstrated his worth in the recent India vs. Australia three-match series, making a compelling case for his inclusion with impressive performances in two matches.
Washington Sundar initially appeared as the prime candidate to replace the injured Axar Patel, having been flown to Sri Lanka before the Asia Cup final. His presence in India's playing XI for the title match raised hopes of his World Cup inclusion if Axar couldn't recover in time.
However, this scenario didn't materialize, surprising even cricket legend Yuvraj Singh, who believed Sundar's left-handed batting and off spin bowling would earn him a spot in the team. The former batsman also suggests maintaining the current batting order and providing consistent opportunities to KL Rahul and Shreyas Iyer, considering their recent return from injury layoffs.
"With Axar not there we have to wait and see who will bat at No. 7. I was thinking if Washington Sundar would have played in place of Axar then India would have had another left-hander. But unfortunately, he did not get picked and so did Yuzvendra Chahal. But otherwise, I feel the combination is fine," Yuvraj said when speaking to Hindustan Times.
"So whoever between KL and Iyer bats at No. 4, I don't think India should chop and change anymore because both are coming back from an injury and both need game time," he added.
In their first warm-up match of the ODI World Cup, India, captained by Rohit Sharma, is set to face England in Guwahati today, with another warm-up match scheduled before their opening game against Australia on October 8 in Chennai.
Last Updated on September 30, 2023