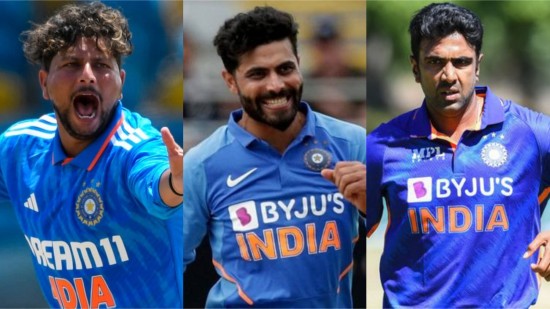 Zaheer Khan insists on India including all three frontline spinners in the playing XI for their 2023 World Cup clash against Australia at Chennai's MA Chidambaram Stadium on October 8.
In light of the spin-friendly conditions prevailing in Chennai during the 2023 World Cup, former Indian fast bowler Zaheer Khan offered his perspective on how India could gain a significant advantage. He maintained that the trio of Ravindra Jadeja, Kuldeep Yadav, and Ravichandran Ashwin could be instrumental in India's success.
To make room for all three spinners, Khan suggested that bowling all-rounder Shardul Thakur might be required to step aside. Speaking in a video shared by Cricbuzz on their YouTube channel, Zaheer Khan underlined the strategic importance of adapting to the conditions in Chennai. He opinioned that when competing at the MA Chidambaram Stadium, where the pitch traditionally favors spinners, the primary consideration should be fielding a trio of spin wizards.
"When you are playing in Chennai, the first discussion should be about accommodating three spinners. With Hardik Pandya there, Jasprit Bumrah and Mohammed Siraj will be the two frontline seamers. I feel that all three spinners will be in the playing XI. Shardul Thakur will have to miss out," said Zahir Khan.
While Rohit Sharma's Indian team can comfortably field three spinners in their lineup, Australia faces a different scenario. Pat Cummins and his squad have just one primary spinner, Adam Zampa, and will depend on Glenn Maxwell to contribute some overs.
Former cricketer Virender Sehwag also highlighted this disparity in the same video, noting Australia's recent struggles against spin. He cited their back-to-back losses in the first two matches of a three-game series against India before the 2023 World Cup as evidence of their challenges against spin bowling.
"You generally associate slow and turning wickets with Chennai. We have a very strong spin department with Ravichandran Ashwin, Kuldeep Yadav, and Ravindra Jadeja. We have seen very recently that Australia have struggled against spin. They lost the first two games. There wasn't much turn in the third ODI, which is why they played better and won," Sehwag stated.
In the ODI series between India and Australia, India emerged winners with a 2-1 scoreline, while the visitors managed to bounce back by clinching a 66-run victory only in the third and concluding match.
Last Updated on October 6, 2023