'From pros to pros', Neobet is a reliable and ambitious betting site, run by professionals. It's not the most well-known site, but this isn't necessarily a bad thing, when you may have stumbled upon a hidden treasure. This neo.bet review will run you through why.
About Neo.bet 
Bonuses and Promotions 
Deposit and Withdrawals 
Trust & Safety 
Available Markets 
Features 
Mobile App & Play 
Pros & Cons 
FAQ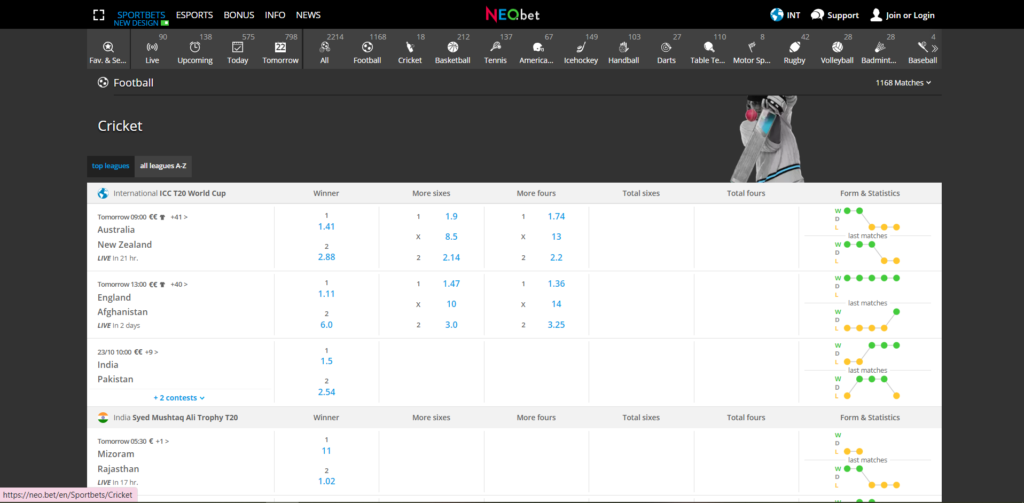 About Neo.bet
Neo.bet is a relatively new online betting site, but they are already beginning to make a name for themselves. It is licenced by Malta Gambling Authortiy and also holds a SSL certification. This means that there is protection for customers' information and data. Furthermore, the site uses encryption on their website as well as on their app, making it super safe to upload your payment details. As Neo.bet grows, it will undoubtedly become available to customers in many other countries but at the moment Whilst compiling this Neobet review, we found that the casino operates in the following countries: Austria, Canada, Finland, Germany, Luxembourg, Malta and the Netherlands. Additionally, it's one of the first German betting operators that received a German Licence. This means they are an officially recognized bookmaker and subject to strict German regulations when it comes to online betting. This alone is a serious indication of how reliable the company is.
The sportsbook operator is relatively new in the market, but the bookmaker is on solid ground when it comes to its foundation. It hasn't been too long since they started operating, but they have been licensed for the last 5 years. Neo.bet belongs to Greenvest Betting Ltd. which is Maltese in origin and has a licence by the Malta Gaming Authority (MGA). It is also the exclusive partner of Karlsruher SC GmbH & Co. The sportsbook operator also takes security seriously. They comply with the Payment Card Industry Data Security Standard. For those who don't know, the PCI DSS is an IT security standard and most businesses accept its validity. Any business that processes, stores or forwards credit card data have to meet the criteria of this standard. Besides, it is also TÜV Rheinland ISO / IEC 27001: 2013 certified. In a nutshell, this means it uses one of the most renowned security frameworks in the world.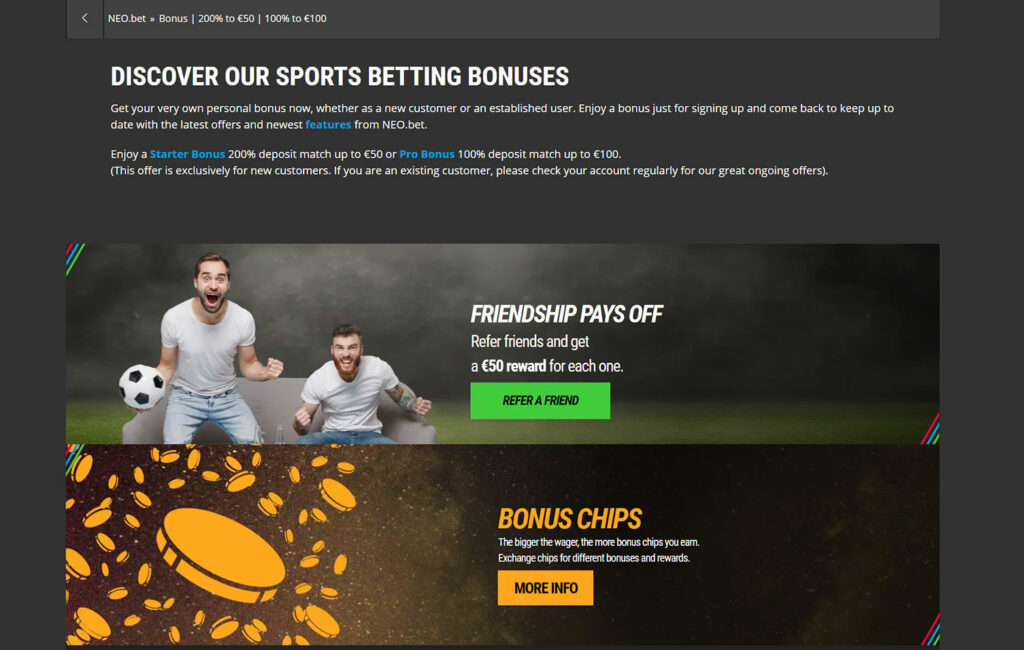 What Bonuses Are Offered On Neo.bet
There are a variety of incentives and promotions offered to both new and existing clients at just about every bookmaker out there. They are the greatest weapon of bookmakers to attract betters to place their wagers on their platform. Our Neo.bet review will explore some of the casino's offers. As a casino they offer a range of attractive bonuses and promotions. First, they have an attractive welcome bonus offer that changes according to the amount you deposit. We'll not mention any percentages or amounts in this review. This is because Neo.bet is a bookmaker that operates in different countries and regions of the world. Thus, the contents of the bonuses and other promotions might be different depending on the country. However, we can confidently say that these bonuses and promotions are highly competitive. When we started writing our review, we were excited to see their great offers that differentiate the site from similar ones.
Another type of bonus that Neo.bet offers is a 'Friendship referral bonus". You're awarded according to the number of friends you bring on the platform to share in your betting excitement and experience. Naturally, the more friends you bring in, the more you are awarded and the Neo.bet client base increases. So it is a win-win situation for both parties. All you have to do is to refer a friend with a link the platform provides. You can share it via email, SMS or WhatsApp. After your friend opens the link and registers on the site, he receives the usual welcome bonus and some additional starting credit. And as soon as your friend deposits a certain amount of funds, you'll receive your referral bonus. This is a great opportunity for both you and your friends to win and it also allows you to share and experience betting excitement.
Neo.bet also offers its clients a Bonus chip promotion. In simple terms, the Neo.bet rewards its betters for their loyalty. Every better on the platform receives chips for each of their sports bet. Moreover, a higher bet and a bigger combo mean more bonus chips. Tracking your bonus chips is also very easy with the well-designed Neo.bet mobile app. The app lets you see the number of bonus chips you will win for every bet even before you make them. So you can try different combinations to experiment and find your optimal bonus. Considering the operator is relatively new, these offers might seem adequate. Still, we expect it to increase their bonus and promotional offers. As the market grows, new competitors are jumping on the stage, and it is becoming more and more competitive. And this will surely reflect on the operator. Continue to read our Neo.bet review for more information on payments, withdrawals, licensing and more.
How to Deposit or Withdraw On Neo.bet
The betting operator offers a wide range of payment methods for both depositing and withdrawing.
Deposit Methods
Payment Method Min. Amount Processing Time Visa €10 Instant Apple Pay €10 Instant Neo.bank €10 Instant Trustly €10 Instant Klarna €10 Instant
Withdrawal Methods
Payment Method Min. Amount Processing Time Visa €20 1-3 Days Trustly €20 1-3 Days PayPal €20 1-3 Days MuchBetter €20 1-3 Days
Trust and Safety
Trust is one of the most important aspects when it comes to booking operators. Many games out there are aware that as online sports betting gained prominence, illegal operators started everywhere. And the more people fell victim to such scams, the harder it became to trust the operators. So it is always a wise idea to check their licenses and security measures before anything else. However, this platform leaves no ground for doubt. The booking operator holds numerous licenses, certifications, awards and many more which are testimonials to their legitimacy. The first license we would like to mention is the platform's German license. Germany is a country famous for its discipline and when it comes to gambling, they are even stricter. Neo.bet is one of the first betting operators that managed to get German licensing under their strict regulations. This feat alone is more than enough, but the platform didn't just stop there.
On top of legitimacy, the site also takes responsible gaming and security quite seriously. The company complies with the PCI DSS. It is a security standard recognized and accepted on a global scale. If a company hopes to process, store or forward information concerning credit cards, it has to abide by this standard. Neo.bet uses a certified PCI DSS solution which makes all financial information secure. Moreover, the company also possesses a TÜV Rheinland ISO / IEC 27001: 2013 certification. Any business that deals with data have to make security their top priority, thus, the operator implemented one of the best security frameworks available. If that's not enough, the company also uses SSL encryption to protect the data even further. Another great aspect of the site is that they also take gambling addiction seriously. They offer a link to Gordon Moody, a free online gambling therapy service.
Licensing Information
The first thing we should mention is the parent company of Neo.bet, the Greenwest Betting Ltd. Greenwest headquarters is in Malta and Malta Gaming Authority (MGA) has licensed and regulates its activities. the MGA is an independent regulatory office and it is sole responsibility is to govern and oversee all the gaming activities in Malta, whether online or land-based. The sports betting operator itself is also under German licensing. Germany is a country famous for its strict legislation regulations. If Neo.bet managed to get their licensing, it simply means that it has a solid background and a well-established, well secured platform.
Markets Available at Neo.bet
As a sportsbook, the operator has a great range of sports available for betting. Without a doubt, you can find your favorite sports on the platform and have fun wagering on them. The sports booking operator offers an ample amount of sports options for its registered betters. They take pride in providing the widest range of sports available, and we can see why. The market is far and wide and almost every league out there is included. As a result, the betters can easily find their favorite sports in their preferred leagues and enjoy wagering on them. The market available on the site includes Football, Basketball, Rugby, Tennis, Ice hockey, Handball, Darts, Volleyball, Snooker, Aussie Rules, Table Tennis, Cricket, Boxing, Mixed Martial Arts (MMA), Bandy, Kabaddi, Futsal, and Floorball. Each sport is divided into different sections such as tournaments and leagues so whatever you are looking for is definitely there. 
Another great opportunity that the site offers to its users is the eSports section. With the development of technology, gaming took many turns and for the last decade, eSports has gained tremendous importance. People all over the world love watching the competition between professional players in various tournaments, leagues, or events. Especially, worldwide tournaments draw millions of people in each time they are held. Neo.bet provides the bettors with an opportunity to bet on their favorite eSports as well. The variety of eSports is also as impressive as sports betting options. The operator has options like first-person shooter (FPS), real-time strategy (RTS), and online multiplayer battle arenas. You can place a wager on popular games such as Counter-Strike GO, Leage of Legends, Valorant, Call of Duty, and DOTA. Most of the bettors out there are still not aware of eSports betting opportunities but with the help of Neo.bet, we are sure that it'll become even more popular.
Extra Neo.bet Features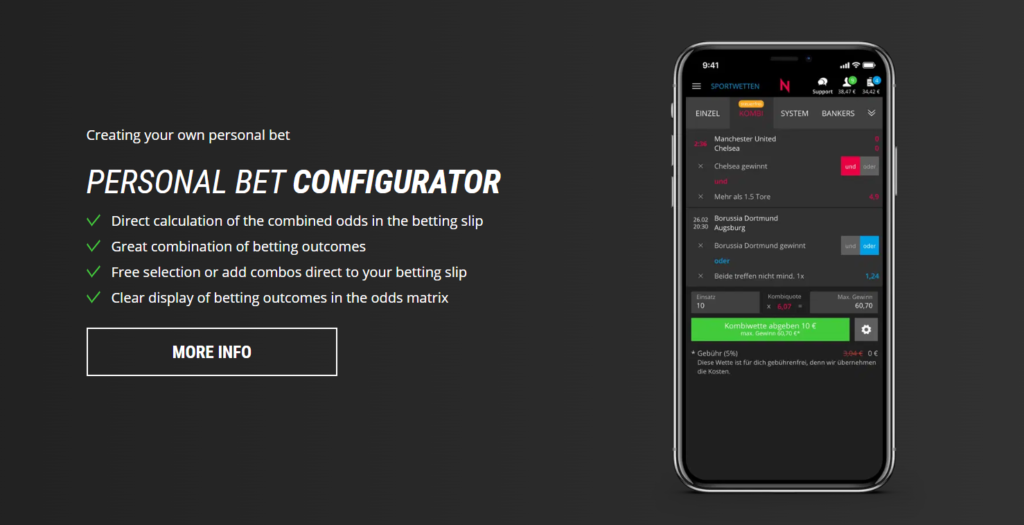 Personal Bet Configurator
This feature makes placing and tracking different bets so easy. It is an assistant tool and it helps you calculate the overall odds in your bet slip. The unique feature also comes with other features like free choice or odds matrix, making it indispensable for bettors.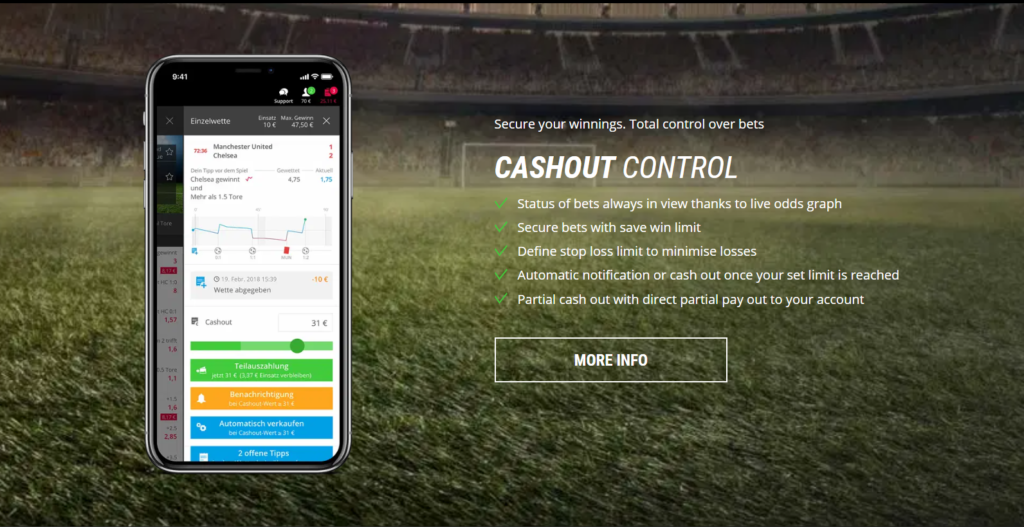 Cashout Control
This feature seems similar to early cashout but Neo.bet's feature, you can analyse the live odds chart and set limits for win and loss. It allows you to secure your bets, minimize losses and makes partially selling your bet possible. In other words, you can control your bets more freely than ever.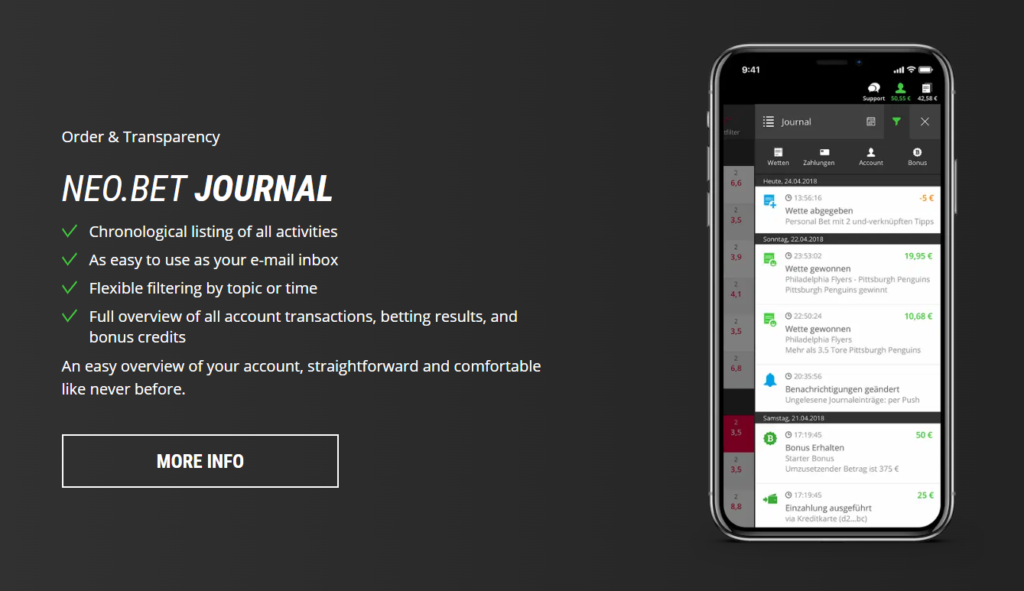 Neo.bet Journal
Keeping track of your activities in a sports booking operator is also part of a healthy gambling habit. With this feature, you can keep your activity stream, see the overview of all your bets and bonus credits. And the chronological order makes analyzing your activity much easier.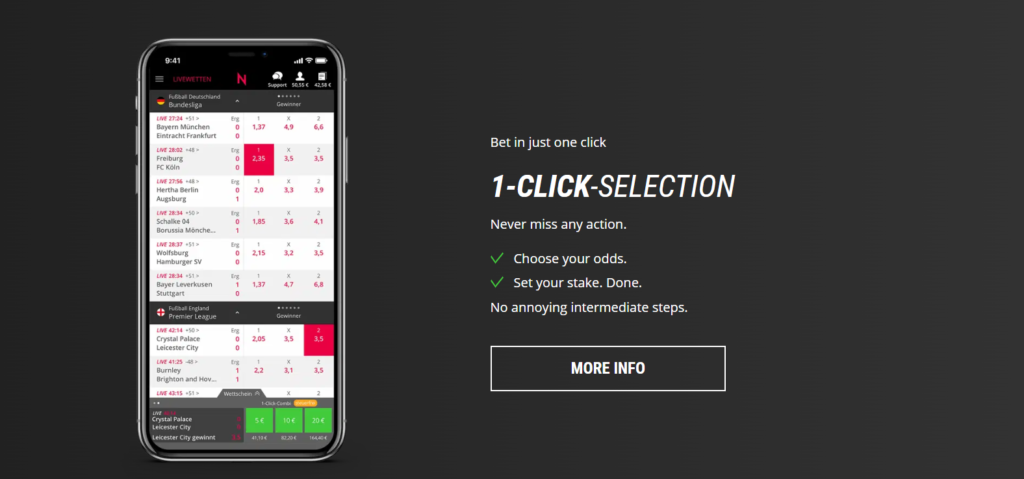 1-Click Insertion
Sometimes speed is everything in betting. With this feature, the operator made placing a wager a breeze. You can now just choose a quote, decide on the bet, and submit it with just one click. It is especially useful when it comes to In-play betting.
Videostream for eSport Events
This feature is specifically designed for all eSports enthusiasts. You can bet on your favourite eSports event and watch how it unfolds live at the website. Thanks to this innovative opportunity that Neo.bet provides, betting on eSports has become even more enjoyable. Just like live-streaming on common sports, with this feature, you can follow the event closely, react to the changes in the event immediately. You just choose an event, fill out and hand in the bet slip just like any ordinary sports bet. On top of enjoying the live stream, this presents bettors with incredible advantages as well. Not only you can react to the changes in the game simultaneously, but you can also live cash out at Esports. If the game doesn't develop as you expect it to, you can simply use the feature and have your bet slip paid out.
Neo.bet Mobile App and Play
Mobile betting apps are an indispensable part of the betting industry, and it is a great help for bettors who love to wager on the go. When it comes to the mobile app, we can say that the app of Neo.bet is quite satisfactory. It is available on both Android Play Store and iOS App Store, so you can enjoy it on almost any smartphone or tablet. The first thing we need to mention is its design. The dark colour theme makes the app very appealing, and it is not hard on the eyes. The fonts used, combined with contrast colours, makes reading everything easy as well so navigating through the app is child's play. The app itself looks quite tidy thanks to the layout. Overall, it is safe to say that the application is highly user-friendly. Any opportunity, offer and feature on the website is also present in the mobile app.
The features on the mobile app itself are also marvellous. Some of these features are Optimized 1Click Delivery, Individual Live-Notifications, and Personal In-App-Support, 24/7. These unique features are a great help for all the bettors. With live notifications, you can keep the track of everything that's going on even if you don't use the app actively at all times. And the in-app support provides fast solutions to problems you might experience. The sign-in process to the app is also fast and simple. It doesn't require complex steps that wear out users, yet safety and security are not neglected. Setting up your account and activating the most needed features are also simple tasks. When we consider everything about the mobile app, we can say that it is very convenient and usable by both novice and expert bettors thanks to its genius design and smart layout.
Pros and Cons of Neo.bet
What we liked
A great variety of live events
eSports betting
Live streaming feature for eSports
Great desktop interface
Innovative mobile app
Credible and regulated
Awesome personal bet configurator tool
What we didn't like
Casino services are not available
Weak welcome offers compared to competitors
No live-streaming feature for sports events
Available in only certain countries
Not a lot of variety in available sports
FAQ
Is Neo.bet Legit or a Scam?
Yes. Neo.bet is a regulated and licensed sports betting operator. The main company, Greenwest Betting Ltd., has a license from Malta Gaming Authority (MGA). Moreover, it in possession of a Germany-wide license as well. 
How to play on Neo.bet?
Registering with the sportsbook is straightforward. You can register via the mobile app or the official website. First, sign up to the platform, enter an email address and choose a password, complete the relevant information and finally, accept the terms and conditions. 
How long do withdrawals take on Neo.bet?
Neo.bet offers a wide range of payment options and withdrawal times differ among them. Some options like Visa and bank transfer can take between 1-3 days. But some other options like Neteller, Skrill, and MuchBetter are processed instantly. 
What kind of bets are available? 
There are several bet types available on the platform. The single bet is a kind of betslip that has a single bet. On Multibet, you bet on 2 or more sports events, such as 4 football matches. In this type of bet, the odds are combined, or in other words, multiplied. And the winning condition is to win all the bets on the bet slip. A system bet is a type of multibet but it is based on various combinations of bets. The winning conditions might differ on how you played your system bet. Handicap betting is a type of bet in which the bookmaker sets a certain amount of handicap for opponents with different strengths. To win the bet, the team that you placed your wager on must overcome the handicap difference. You can also place your bets on the results. It means that you are betting on the exact score outcome of the sports event. 
How does sportsbetting work? 
Online sports betting is quite simple in principle and in practice. You place a wager on certain sports events with certain odds. If the outcome of the sports event is as you have predicted, you win your bet. Otherwise, you lose your bet. If you win, your wager will be multiplied by the odds which are predetermined by the bookmaker based on some facts and affect your winnings greatly. These odds are usually based on the probability of an event but they are not limited to that. But of course, when you lose, the only amount you lose is the amount of your wager. You can see your odds before the event starts and can calculate your winnings but under certain conditions or betting types, such as live-betting this may vary. There are different types of bets and the conditions to win or lose might be different for every bet type. 
Our Conclusion
Since the platform first started operating, it has attracted the interest of a great number of betters. And as things stand, it can become a mainstream betting operator in next to no time. The innovative approach it has towards the betting industry makes it an exemplary service provider. The features are obviously the result of their expertise and success. They focus on user experience and makes everything easier and more enjoyable for betters. We are certain that they'll keep this up and bring forth many other features unique to their platform. Beyond their features, the mobile app of Neo.be is also well-built. The combination of smart design, dark color theme and contrast color fonts makes navigating very easy. The features on the app, such as 1click insertion, personal bet configurator and cash out control provide players with a seamless overall betting experience.
The customer service of the sports book operator is also satisfactory. The number of contact options is adequate. Live chat options provide the fastest response time, and it is without a doubt the favourite method of help for betters. In addition, it also offers callback and email options to its users as customer service channels where live chat falls short. Security and licenses are other aspects we would like to mention. The operator is on solid ground when it comes to that and players can freely and safely bet on its platform. The security measures they use are world-class. Long story short, Neo.bet is a highly professional, trusted and secure betting platform, available to all betting enthusiasts. It certainly lives up to its "by professionals, for professionals" statement. If you are looking for a new operator to bet or new in the world of betting, we highly recommend this operator. We hope you enjoyed this Neo.bet review and found it useful.
Last Updated on October 21, 2022