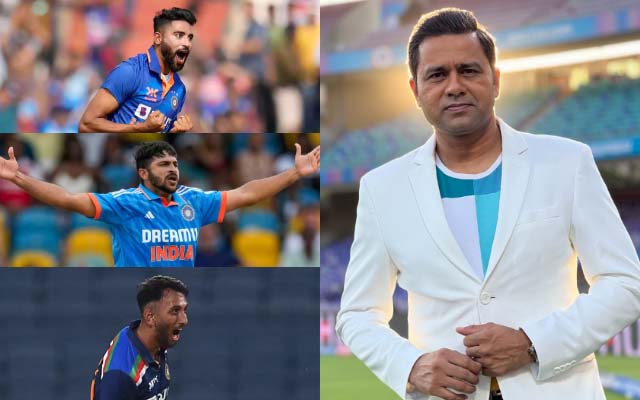 Aakash Chopra insists that only Mohammed Siraj should fill India's third pacer slot in the ODI World Cup, despite the competition with Shardul Thakur and Prasidh Krishna.
Former Indian opener Aakash Chopra has thrown his weight behind Mohammed Siraj as India's third pace bowler for the forthcoming ODI World Cup 2023. With Siraj securing a place in the Asia Cup squad and his impressive ODI record, his inclusion in the World Cup team appears imminent. Currently, he holds the fifth position in the ICC ODI Rankings among Indian pacers, boasting 670 rating points.
In the absence of Jasprit Bumrah and Mohammed Shami, Siraj has admirably spearheaded India's fast bowling department. The competition for the third pacer slot primarily features Siraj, Shardul Thakur, and Prasidh Krishna.
Chopra lauded Siraj's outstanding ODI statistics, highlighting his superior performance compared to Shami and Bumrah. In his YouTube video, Chopra said, "Mohammed Siraj is brilliant. He has had a short career. 43 wickets in 24 matches at an average of 20.7 and an economy rate of 4.78. They are better than both Bumrah's and Shami's numbers. In Asia, his average becomes 16.57 and economy rate is 4.51."
"You cannot play anyone. You will have to play Siraj only. His numbers in Asia are better than his numbers outside Asia. So, people who were talking about whether Shardul Thakur or Prasidh Krishna can be played instead of Siraj, you cannot play anyone. You will have to play Siraj only. You should play him," Chopra further added.
Chopra also commended Jasprit Bumrah, underscoring his impressive stats in the 50-over format. Bumrah had recently returned to international cricket in the T20I series against Ireland following an extended injury break.
"Jasprit Bumrah has picked up 121 wickets in 72 matches at an average of 24.3 and an economy rate of 4.63. He is brilliant – nearly two wickets per game. In Asia also, his average is 23.9 and he has an economy rate of 4.65. These are phenomenal numbers," he added.
Displaying excellent form, the leading fast bowler appeared to be in top-notch rhythm during the tour and is set to spearhead India's pace attack in the Asia Cup, which kicks off with a high-stakes encounter against traditional rivals Pakistan on September 2nd.
Last Updated on August 26, 2023