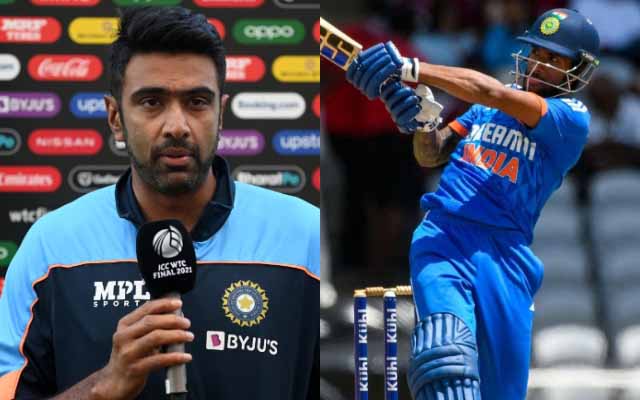 Ravichandran Ashwin advocates for Tilak Varma's inclusion in World Cup 2023, citing his left-hand batting advantage as a significant asset for India, considering the scarcity of finger spinners to challenge left-handed batters in other teams.

In a remarkable entry into international cricket, Tilak Varma has become the centre of attention in the cricketing world. Making his debut in the first T20I against the West Indies in Trinidad, the talented Hyderabad batter showcased his prowess with the bat, smashing back-to-back sixes to kickstart his cricketing journey.

Despite the team's ongoing struggle to secure a victory in the 5-match series, Tilak's performances have been standing out in the Hardik Pandya-led side. With a quick-fire 39 off 22 balls in the series opener and an impressive maiden half-century of 41 runs off 51 balls in the second game in Guyana, Tilak has firmly established himself in the game.
Tilak Varma's introduction to international cricket has garnered widespread admiration from former and current cricketers, including veteran Indian off-spinner Ravichandran Ashwin. In his latest YouTube video, Ashwin expressed his belief that Varma's left-hand batting skills will be a significant advantage for India, especially given the dearth of finger spinners to challenge left-handed batters in most teams.

While discussing Tilak's potential for the upcoming World Cup, Ashwin expressed, "This is neck-and-neck with respect to the World Cup. So, will they think about Tilak Varma as an option if we don't have enough backups? Because Sanju Samson has performed really well in ODIs. But the exciting part about Tilak Varma is that he is a left-hander and Team India is lacking left-handers. Jaddu is the only left-handed batter in the top 7."
And look at the off-spinners from all the top teams. Australia have Ashton Agar. England have Moeen Ali and a leggie in Adil Rashid. So, most teams don't have a finger spinner to challenge the left-handed batters. That is why the emergence of Tilak is crucial. It is still early but will they see him as an option? He has at least made everyone notice him. He is surely in the contingency plan. Because any selector who would have seen that knock would have gone, 'Woah!'" he further added.
Ashwin emphasised the remarkable similarity in Varma's batting style with that of Rohit Sharma, especially the young batter's proficiency with the pull shot. The veteran bowler commented, "His batting style is very unlike for an Indian making his international debut. His game resembles a lot like Rohit Sharma. He sweats on the pull shot. Generally, Indian batters won't set up to play the pull shot. It is something they develop later. But his game looks like he has a natural pull shot and sends the ball outside the rope like an Aussie batter. Too early to call, but that knock was stupendous."
Last Updated on August 8, 2023