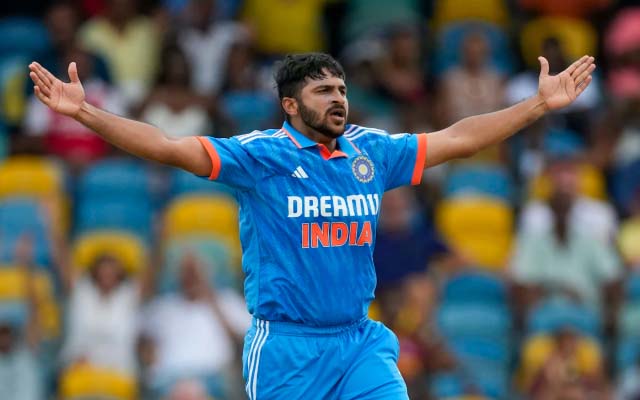 In the aftermath of a resounding victory against the West Indies, Shardul Thakur underlined the significance of collective teamwork that propelled India to success. 
With the ODI World Cup on the horizon, Shardul said his focus remains on contributing to the team's success rather than securing his own spot. His standout performance has reinforced Shardul's position as a seam-bowling all-rounder, making a compelling case for his inclusion in India's World Cup squad.
In the series against the West Indies, Shardul excelled as the top bowler, claiming an impressive eight wickets in three matches, including a remarkable 4/37 in the crucial decider. With the ODI World Cup approaching (October 5 – November 19), the team management aims to solidify player positions and Shardul's stellar performance adds to his confidence.
Reflecting on his achievement, Shardul shared, "I am happy to have picked up eight wickets in this series. As a cricketer we wait for this opportunity for years, sometimes you perform, sometimes not. Whichever series I play that always boosts my confidence because I am only adding experience to my career."
"I never think that I have to play to seal my spot because I can't play with that mentality and I am not that type of player. If I am not picked in the World Cup squad it's their call, I cannot do much about it. I always try to perform for the team and play according to the situation of a match. I don't know why I wasn't picked then (Sri Lanka ODI series) but I have been part of all other ODI series in the last 2 years," he added.
Shardul expressed that his continued selection in the team reflects the team's expectations of him, and he values the chances given to him as a result of their confidence. He emphasized finding satisfaction in making meaningful contributions and delivering impactful performances across all aspects of the game.
The seam-bowling all-rounder emphasized the significance of every upcoming game for India in preparation for the World Cup.
"With World Cup coming up every game that you play is going to be important from the team's perspective… For us individually also all games that we play before the World Cup are important. Shubman and Ishan batted very well in the powerplay. They gave us a strong start and that's why we can put on a big score. We expected a strong fight from West Indies but Mukesh Kumar bowled a fine opening spell with the new ball. The first three wickets were crucial. We bowled as a unit."
The much-awaited T20 series will start on Thursday.
Last Updated on August 2, 2023