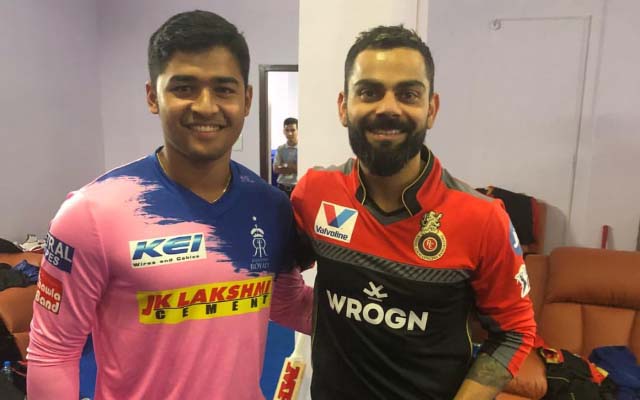 Riyan Parag revealed how he found strength in Virat Kohli's profound counsel amid a challenging phase in IPL 2023.
Following an underwhelming IPL season, Parag's redemption came during the Deodhar Trophy for East Zone. Exhibiting a masterclass in batting, he clinched the tournament's top-scorer title with 354 runs in 5 matches at an average of 88.50.
Parag's explosive batting style was on full display, smashing an impressive 23 sixes throughout the tournament, showcasing his prowess in power-hitting. His all-round brilliance shone as he secured 11 wickets with the ball. Despite a valiant 95-run innings by Parag in the final, East Zone fell short in a 329-run chase against South Zone.
Having idolized the batting maestro Virat Kohli, Parag drew inspiration and resurgence from his advice. during a trying phase in the IPL. Talking to Indian Express, Parag revealed, "Mai puri baat nahi bata paunga. (I cannot tell you the exact conversation). He told me 'something that has worked for half a year cannot be wrong after a few failures. What happens in the IPL is that the tournament goes on so fast that after failing two games, you start to question yourself. Everyone makes mistakes and I have made tons of them. Two-three games don't go your way and you feel to change your process and work ethic." 
In the IPL 2023, Parag had a subdued outing, amassing a mere 78 runs across seven matches and clinching just one wicket. Reflecting on his mentor Kohli's guidance, the 21-year-old shared the advice of maintaining one's process even in adversity. He emphasized earnest efforts in honing specific elements of his game and striving for consistency in his on-field displays.
"It was him telling me that 'take the reality check and accept that this is a bad phase but it doesn't mean that you need to change the process that has been working for you. I have worked a lot on my batting. I am trying to take the game deep. I have become more mature on and off the field. I have done a lot of bowling as well. I think a lot of work has been put into my skill, and the results are showing now. I think I was a little reckless a few years back. Now I am learning the tricks of the trade," Parag added.
Last Updated on August 5, 2023