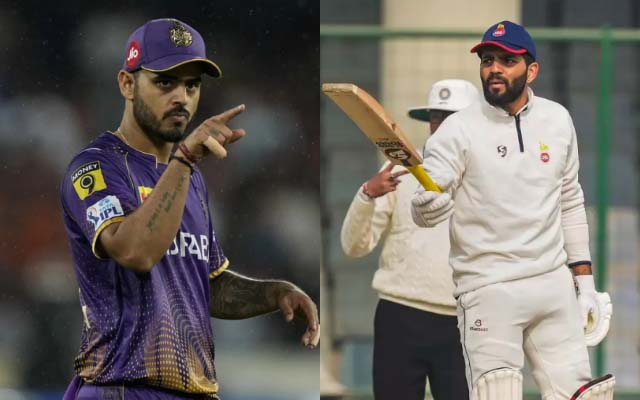 News18 has reported that former Delhi cricket captains, Dhruv Shorey and Nitish Rana, have taken a significant step by seeking a no-objection certificate (NOC) from the DDCA, signaling their intention to switch teams for the upcoming domestic season.
Although both players have formally approached the association, they are currently awaiting a response. Dissatisfied with the trajectory of their careers following the last domestic season, Rana and Shorey have made it clear that they are exploring new opportunities.
Notably, Rana showcased his prowess with scores of 11 and an unbeaten 6 in Delhi's victory against Mumbai during the Ranji Trophy in January. However, he opted out of the season's final fixture against Hyderabad.
A source closely familiar with the situation reported to News18 CricketNext that Nitish Rana found himself in a position of contemplation once the previous season concluded. Rana expressed dissatisfaction with his mid-season removal and began actively seeking alternative opportunities. Although he participated in the match against Mumbai, he subsequently chose to withdraw from the fixture against Hyderabad.
After registering scores of 14 and 40 against Maharashtra, Nitish Rana's absence was notable as he didn't participate in matches against Assam, Tamil Nadu, Saurashtra, and Andhra.
In contrast, Dhruv Shorey, aged 31, expressed a keen interest in white-ball cricket while remaining a pivotal player in the longer format. Shorey's impressive 135-run performance during North Zone's quarter-final triumph in the Duleep Trophy couldn't be replicated in the semi-final, a contest eventually secured by the champions, South Zone.
"With regards to Dhruv, he was a red-ball asset for Delhi but wasn't happy with opportunities in shorter formats. He still wants to play white ball cricket," expressed the anonymous source to CricketNext.
Dhruv Shorey's recent outings in the Vijay Hazare Trophy saw scores of 41, 9, 43, 1, and 10 runs, but his place in the selectors' plans has been uncertain. Despite featuring in DDCA's leadership strategy for the Buchi Babu tournament, both he and Nitish Rana requested a NOC just a day before the team's departure.
Last Updated on August 11, 2023