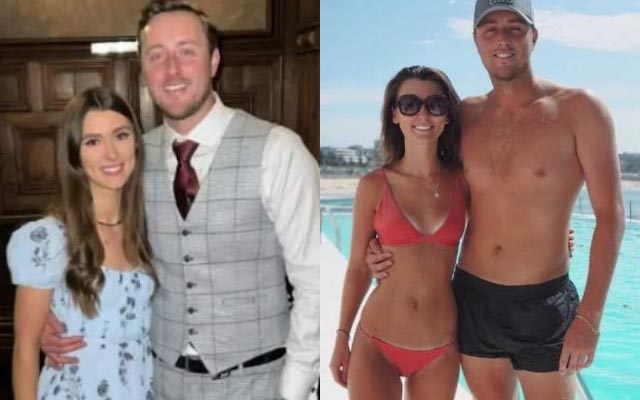 England bowler Ollie Robinson, who had been in an eight-year relationship and shares a child with his fiancée, ended their engagement just two months before their scheduled wedding.
Ollie Robinson, known for his on-field exploits, is now in the spotlight for off-field reasons. He and his fiancée Lauren Rose Pullen have separated just before their planned October wedding, ending an eight-year relationship and leaving behind a two-year-old daughter.
Cricket fans were gearing up for a grand event in October 2023 as Robinson and his partner's wedding plans were in full motion, with invitations already dispatched. But a recent revelation, per a DailyMail report, has shaken the cricket world: Robinson and his partner parted ways a mere two months before the big day, and the cricketer has seemingly moved on, now romantically linked with social media influencer Mia Baker. Social media activity tells its own story, as Robinson has allegedly scrubbed all traces of his former partner and their child from his Instagram.
"Despite the pain he's caused, he's not shy of liking and commenting on Mia's Instagram posts. He's also deleted all photos of Lauren and his daughter from his social media. We were invited to the wedding but then in late July we were told that it had been called off and that Ollie was seen with Mia by some of the England team," said a source close to Robinson to DailyMail.
"Mia has an impressive social media following, particularly for her work in promoting golf to the next generation, and she has garnered sponsorship from several prominent brands in the sport.
"Lauren is shattered and utterly devastated. One moment, she was on the brink of marrying the man she adores, ready to spend her life with him, and the next, he leaves her, and she discovers he's involved with someone else." The source went on to mention to DailyMail that whispers of Robinson's relationship with Baker began circulating when England players spotted her at the team hotel during the Ashes series.
"We were initially invited to the wedding, but come late July, we were informed that the wedding was off, and rumors circulated that Ollie was seen with Mia, as some members of the England team reported. Many of us, including Lauren and her family, are appalled by his actions. We all believed he had finally found stability and saw him as a devoted family man, especially given his seemingly happy life with Lauren and their child. But it appears he hasn't truly changed, and it raises questions about one's character to walk out on your family like this."
During the 2023 Ashes series, Robinson took ten wickets across three matches, maintaining an average of 28.40 and an economical 2.76. However, his send-off to Usman Khawaja in the first Edgbaston Test drew criticism from former Australian players. His Ashes journey was cut short by backlashes in the third match, causing him to miss the remaining two Tests. Although expected to play for Northern Superchargers in The Hundred 2023 Men's, he has not yet appeared in the playing XI.
Last Updated on August 12, 2023