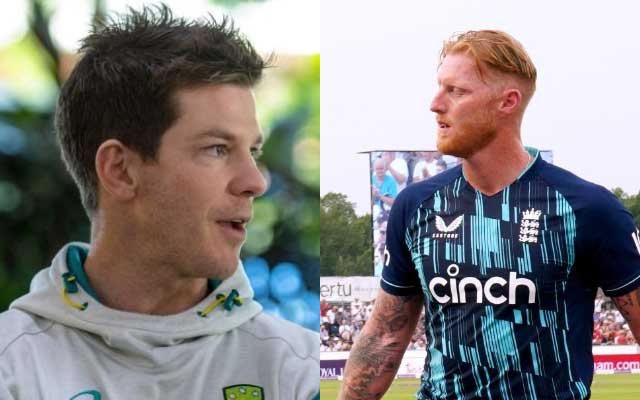 Former Australian Test captain Tim Paine expressed intrigue at Ben Stokes' decision to end his 13-month retirement from ODI cricket and make a comeback for the upcoming World Cup in India.
England welcomed back Test captain Stokes to the tournament with delight, yet Paine raised doubts about the move, questioning if Stokes' choice seemed somewhat self-centered, particularly in displacing a teammate who had diligently prepared for the event over the past year.
Paine questioned when speaking on SEN Tassie, "Ben Stokes coming out of one-day retirement, I found that interesting," adding, "It was a bit of, 'Me, me, me', there isn't it? It was, 'I'll pick and I'll choose where I want to play and when I want to play', and, 'I'll play in the big tournaments'. The guys who played for 12 months, 'Sorry, thanks. But can you go and sit on the bench because I want to play now?'."
Due to his persistent knee injury, Stokes will focus solely on batting for England, acknowledging that bowling strains his condition. Stokes' inclusion in the 15-man squad for the New Zealand series and the subsequent World Cup tour, displacing Harry Brook, led Paine to question if recalling the 32-year-old was indeed the correct decision.
Although Paine had reservations about Stokes' comeback, he conceded that the reigning champions should be considered major in the tournaments, sharing the favorite status with India.
"I don't know, he's not bowling. Harry Brook or Ben Stokes? As a bat. It would be very close, very, very close. Probably (England are now favorites), them and India. I think the Aussies if they can get hot (they can also win)," said Paine.
Last Updated on August 18, 2023