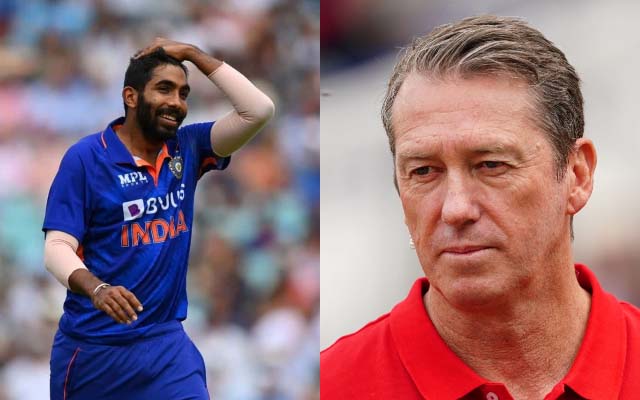 Glenn McGrath, the iconic Australian fast bowler, has pointed out that Jasprit Bumrah's distinctive bowling style places significant strain on his physique, evident from his prolonged hiatus due to a back injury.
As Bumrah readies himself to rejoin the Indian squad, leading the side during the Ireland tour in the absence of senior players, McGrath's counsel emphasizes the critical need for Bumrah to prioritize his physical conditioning to blend with his exceptional bowling technique.
When talking to MRF Pace Foundation, McGrath stated, "He (Bumrah) has been incredible for India. His bowling stats, the wickets he has taken, and the way he bowls, I am a big fan but his bowling action puts a lot of stress on his body. So he needs to stay strong and fit. If he does that he could play for a few more years."
"With the current international schedule and the IPL, there is no off-season anymore for a fast bowler, especially for someone like Jasprit, who needs an off-season to pull his strength back in. So that's a decision he needs to make himself. It is getting harder to play all three formats. That is something Jasprit will have to think about moving forward because what he does is unique and is quite tough on his body too. I think he has a lot more to offer for the rest of his career," he added.
Having not represented India since September of the previous year, Jasprit Bumrah's absence due to a back injury has been extensive. This sidelined him from significant events, such as the 2022 Asia Cup, T20 World Cup, Border-Gavaskar Trophy, and the World Test Championship final.
Glenn McGrath drew parallels with past luminaries, highlighting the necessity for fast bowlers to adeptly preserve their physical well-being to ensure sustained playing careers.
"There is a lot of cricket played these days. It puts a strain on your body, but you have to know how to recover and find time to put strength back on your body. Guys like James Anderson, Stuart Broad and Courtney Walsh played for many years as they knew how to manage their bodies. I worked hard on my fitness, and I had an easy action which made my comeback from Injury easier."
Last Updated on August 5, 2023