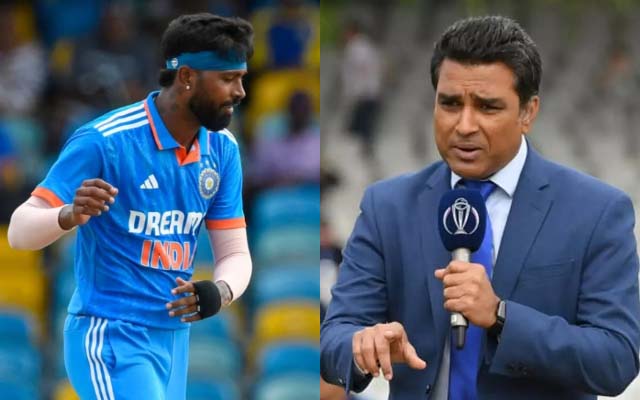 Former Indian batter Sanjay Manjrekar, expressed apprehensions about Hardik Pandya's form, citing the need for significant physical improvement leading up to the 2023 World Cup.
With the ICC 50-over World Cup on the horizon, India aims to break their decade-long drought in ICC tournaments, and the pressure on Rohit Sharma's team is intensified as the tournament returns to India, elevating expectations. Fans are also closely watching Hardik Pandya, the potential vice-captain, although his recent white-ball performance, notably after the West Indies tour, raises concerns.
Hardik found himself under scrutiny as he captained the team through 2 ODIs and 5 T20Is, with some of his tactical decisions raising eyebrows, while his overall performance with bat and ball raised concerns. In the three 50-over matches, he posted scores of 5, 7 and an unbeaten 70, with only 1 wicket to his name. His T20I performance yielded 77 runs, peaking at 24 in a single game and 4 wickets, with a noticeable absence of wickets in the final three matches.
This dip in form, compared to 2022, has become a significant topic of discussion.
Former Indian batter Sanjay Manjrekar acknowledges Pandya's pivotal role in the upcoming World Cup but expresses apprehension about his current bowling form as the World Cup approaches.
"Hardik Pandya's form is a little bit of concern, his bowling because you will have to do a lot of physical work in the world Cup because you need him as the all-rounder not just a batter so at least 6-7 over per innings is what is expected from him. When India won the world cup in 2011, it was because of people like Suresh Raina and Yuvraj Singh pure batters who bowled a bit, so Hardik Pandya's bowling is very important," expressed Manjrekar while speaking to Star Sports.
Recently, India endured a 3-2 T20I series loss to the West Indies, marking their first-ever such defeat in a 5-match series. Hardik assumed accountability for the team's West Indies setback. As the squad pivots towards the grander objectives of the Asia Cup and forthcoming World Cup, Hardik aims for redemption and enhanced contributions.
Last Updated on August 21, 2023