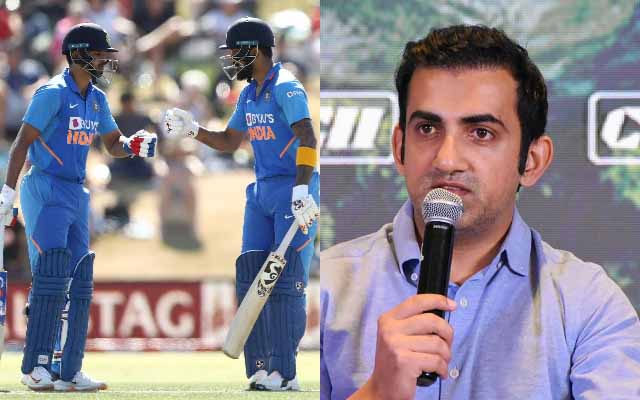 Gautam Gambhir issued a major warning to KL Rahul and Shreyas Iyer, emphasizing the importance of prioritizing current form over past reputation as they make their return to the Indian team ahead of the Asia Cup, urging them to prove themselves.
India's squad for the 2023 Asia Cup was unveiled to the delight of fans, featuring the return of KL Rahul and Shreyas Iyer, who have been on the mend following surgeries earlier this year. While Shreyas is reported to be in pristine health, Rahul encountered a minor setback unrelated to his previous thigh injury during practice matches at Bengaluru's NCA.
Anticipated as crucial middle-order assets, both players are slated to practice with the full squad at a comprehensive seven-day training camp at the NCA, Bengaluru, as they gear up for the Asia Cup 2023 commencing on August 30.
As India gears up to face arch-rivals Pakistan on September 2, the participation of Iyer and Rahul in this high-stakes showdown remains uncertain. Compounding the challenge, the BCCI must unveil the ICC World Cup squad by September 5, leaving Rohit Sharma and his management team with just two matches to evaluate players and solidify a 15-man team.
Gautam Gambhir, the former India opener, delivered a stark warning to the returning duo, emphasizing that their selection must be grounded in their current form, rather than their reputation.
During an interview on the Selection Day Show with Star Sports, Gambhir underlined the importance of favoring players in their prime form. He also cited the example of Tilak Varma, who earned his debut ODI call-up, highlighting the merit-based approach in team selection.
"One thing is clear; there is no front runner for a position when you are trying to win the World Cup. Form and impact are important. The players who are in form need to be picked, rather than those who are not. Let it be Shreyas Iyer, KL Rahul, or anybody. If Tilak Varma is in better form than someone, if Suryakumar Yadav is in better form than Shreyas Iyer or KL Rahul or Ishan Kishan, then you need to start that player. Because the World Cup comes once in four years, you don't go and see who is a front runner or not," Gambhir said on Star Sports.
"Who is in the best form after the Asia Cup and the Australia series, just as Rohit Sharma had said, there is no guarantee for anybody's position. It's great to have Shreyas Iyer and KL Rahul back from injury, but they will need to perform if they want to get in the starting lineup of the squad," added Gambhir, underscoring the imperative of current performance over past contributions.
Last Updated on August 22, 2023