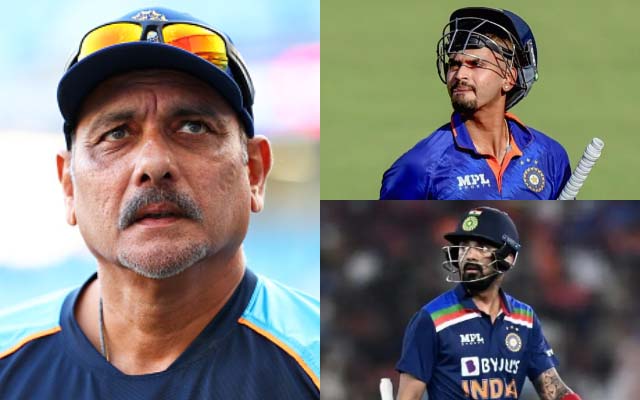 Ravi Shastri, former India head coach, strongly advised against hurriedly including KL Rahul and Shreyas Iyer in the Asia Cup, emphasizing the importance of their participation in several matches prior to the major tournament.
As the Asia Cup 2023 draws near, the Indian cricket team faces the inevitable hurdle of injuries, with several key players sidelined in recent months. However, a silver lining emerges as some stars, including Jasprit Bumrah, prepare to stage their comebacks. Bumrah's return after almost a year's absence in a three-match T20I series against Ireland marks a significant boost. KL Rahul and Shreyas Iyer also strive determinedly for their own returns.
Ravi Shastri believes that while Jasprit Bumrah could participate in the upcoming continental championship, the viable course of action would be to avoid hastily introducing KL Rahul and Shreyas Iyer into the mix. He stated on Star Sports, "They have to play matches, give them some matches before the Asia Cup. They should be picked in the team na. Abhi to shuru ho jata hai Asia Cup (Asia Cup is about to start now). Where will they play?"
"Injuries happen. You have to be careful. You try to rush just with Bumrah. Not once, not twice, three times, I mean and he's been sitting out for 14 months now," Shastri stated, while also proposing the inclusion of three left-handers in the lineup, specifically advocating for Ishan Kishan to open alongside Rohit Sharma. "[Shall play Ishan Kishan] at the top of the order, nowhere else. And the others need to have flexibility. Between Rohit, Virat, and Gill… that can be 2, 3, 4," he shared with Star Sports.
Emphasizing the significance of left-handers in the batting lineup, Shastri drew attention to India's defeat against New Zealand during the 2019 World Cup. He pointed out that despite India's impressive tournament run, the absence of Shikhar Dhawan, who was sidelined mid-tournament, proved crucial.
Shastri, who was the coach at that time, stated, "And a very important point is, I was a coach at that time, and I keep saying that people don't give the credit that Shikhar Dhawan deserves. I mean, that guy was an amazing player. You mention the World Cup in 2019 where we lost that semifinal, when we had a brilliant World Cup, he was the missing man there. You know, that made such a big difference – a left-hander at the top of the order, as opposed to three right-handers with the ball swinging away, which allowed teams to get a grip on where to bowl and bowl consistently," Shastri elaborated.
Last Updated on August 18, 2023