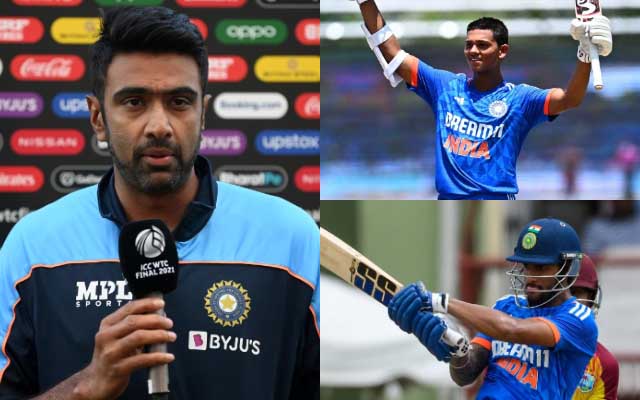 Ravichandran Ashwin weighs in on Ravi Shastri's proposal to incorporate three left-handers, including Yashasvi Jaiswal and Tilak Varma, into India's playing XI for the ICC ODI World Cup 2023.
Ravichandran Ashwin has responded to former Indian coach Ravi Shastri's proposal of fielding three left-handed batters in India's ICC ODI World Cup 2023 lineup, citing the challenges of integrating them alongside established players.
Amid concerns over KL Rahul's fitness, former cricketers are endorsing emerging talent Tilak Varma for the middle order due to his stellar entry into Indian cricket. The 20-year-old clinched the leading run-scorer title in the five-match T20I series against West Indies. Yashasvi Jaiswal has also made an impact across formats since his India debut. Yet, Ravichandran Ashwin highlighted the challenge of fitting both Jaiswal and Varma into the ODI setup alongside established players like Ravindra Jadeja and Rahul, as per Shastri's suggestion.
Discussing the matter on his YouTube channel, Ashwin emphasized the established nature of India's top seven batters, making it challenging to accommodate more than two left-handers in the upper order.
He quoted, "He [Ravi Shastri] brought up another point. He said we should have at least three left-handers in the top 7. Where will you bring in three left-handers?" Continuing, he added, "I am talking about the top 7. Hardik is a fix, and Jadeja is a fix. We have a left-hander among them."
While Shastri expressed reservations about Rahul's fitness for the Asia Cup 2023, Ashwin believes that he would be a direct inclusion. "Rohit Sharma, Shubman Gill and Virat Kohli are all fixed in the top 3. We don't have a left-hander there. If KL Rahul is fit, he will be the keeper batter, and he is also a fix. If Shreyas is fit, he is also a fix," emphasized Ashwin.
The fitness of both Rahul and Shreyas is a notable discussion point ahead of Asia Cup 2023, with the BCCI set to unveil the squad on August 21.
Last Updated on August 20, 2023