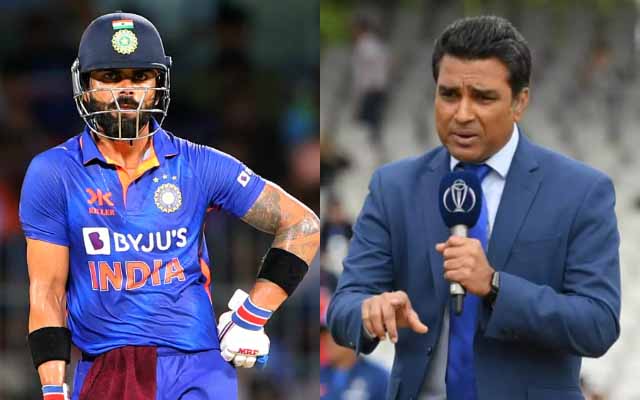 Amidst the ongoing debate about India's No. 4 position for the upcoming ODI World Cup, Sanjay Majrekar has pointed out that Virat Kohli is being unfairly targeted as a solution, drawing parallels with the 2007 ODI World Cup.
As the ODI World Cup approaches, India faces a familiar dilemma: the No. 4 batting position. The 2019 tournament saw them struggle with this slot, and with less than two months to go, the issue resurfaces. Although options like Shreyas Iyer and KL Rahul exist, fitness concerns persist.
Notably, World Cup winner and ex-India coach Ravi Shastri proposes Virat Kohli shift down to No. 4, a notion supported by cricketing luminaries like Sunil Gavaskar and Tom Moody. The quest for a reliable No. 4 hitter continues to loom over India's World Cup campaign.
Sanjay Manjrekar, a former Indian cricketer, has voiced the opinion that Virat Kohli is unfairly cast as a 'scapegoat,' expected to be a universal solution for the team's woes. He drew attention to a similar experiment involving Sachin Tendulkar during the 2007 ODI World Cup, which ultimately resulted in India's exit during the group stage. Tendulkar, renowned for his partnership with Sourav Ganguly as an opener, was tried in the middle-order, where he managed only a duck and 7 runs across two innings.
"The more and more you talk about other options like Ishan Kishan, Virat Kohli seems to get relegated. He has sort of become the scapegoat in the sense that you bat him at No.4 and all your problems are solved. There is also a cultural issue in Indian cricket. In the 2007 World Cup when the team management of Rahul Dravid and Greg Chappell sent Tendulkar at No.4 instead of opening because they had people like Virender Sehwag and others at the top of the order. But that became a huge controversy. So it is really up to Kohli, an iconic player, on whether he wants to bat at No.4. It seems like a perfectly simple solution, but it concerns Kohli," expressed Manjrekar.
Former Indian cricketer Dodda Ganesh too firmly opposed the notion of Virat Kohli batting at No. 4, stating that the team's top batsman should occupy his 'customary position.'
"Your best batter should bat at his customary position where he's had all the success. Not a fan of Kohli batting at no 4 just because the team couldn't find a batter for these many years. Remember, what happened in 2007 WC where Sachin was asked to bat at 4," said Ganesh on X.
Last Updated on August 23, 2023