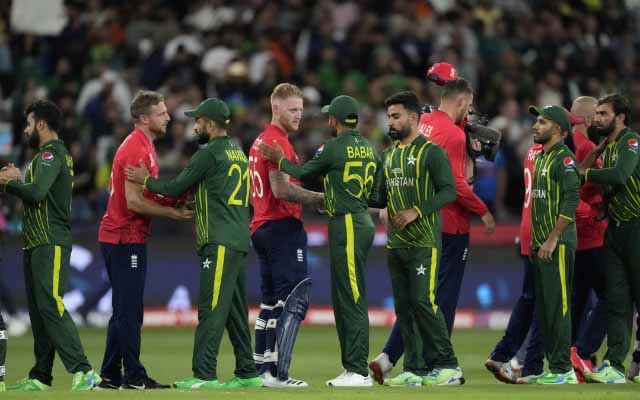 Amidst the upcoming 2023 ODI World Cup, apprehensions have arisen over the November 12 showdown between Pakistan and England in Kolkata.
The Cricket Association of Bengal (CAB) has alerted the ICC about local security agencies' unease due to the overlap with the significant Kali Puja festivities. The potential rescheduling of Pakistan's third World Cup match is being deliberated, considering the large-scale police deployment for Kali Puja, West Bengal's second-largest celebration.
Recently, a six-member ICC delegation surveyed the Eden Gardens' readiness, earmarked for five World Cup matches, including the India-South Africa encounter on November 5 and the second semifinal on November 16.
Officially, CAB chief Snehasish Ganguly has refuted any plea for a schedule alteration. Nevertheless, an anonymous CAB representative informed PTI that both ICC and BCCI have been apprised of the security concerns. According to PTI, the unnamed official stated, "Kolkata Police has cited concerns to provide security for the match slated on Diwali. We have informed the ICC and BCCI to reschedule it and if does not happen we would inform this to the chief minister."
In a shift prompted by local authorities, the high-profile India vs Pakistan showdown in Ahmedabad is said to shift to October 14 from its initial date of October 15. Security concerns arise due to the match coinciding with the commencement of Navaratri.
Another alteration is on the cards for Pakistan's encounter with Sri Lanka on October 12, likely moving forward a few days. Following a comprehensive three-hour ICC inspection and discussion, CAB chief Ganguly offered a measured response to reporters.
"We have not yet got anything officially from the Kolkata Police," said Snehasish. "Unless we get something officially, we can't inform the ICC. Security issue is being taken care of by the Kolkata Police. That is not our look-out. As I said, we have not got anything officially, if we get anything we will inform ICC."
The CAB top-brass recently visited Kolkata Police officials at their Lalbazaar headquarters, said Snehasish, describing it as a "courtesy call." He added, "We went to Kolkata Police for a courtesy visit two days ago, we had a discussion with them. We schedule, plan and how we are preparing the stadium were discussed"
Amidst the flurry of schedule adjustments, concerns arise regarding consultation with local security agencies during World Cup date-setting. Notably, the CAB has reportedly penned a letter to BCCI Secretary Jay Shah, urging a fixture rescheduling.
Last Updated on August 6, 2023