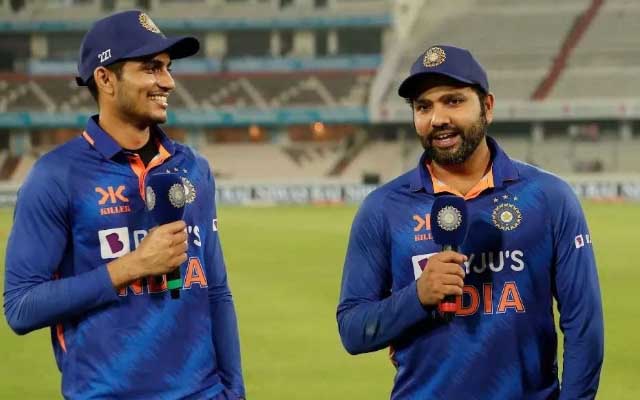 Shubman Gill outlines the factors contributing to his optimism about a successful partnership with Rohit Sharma in India's crucial ICC Men's Cricket World Cup campaign on home soil in October and November.
The rising star Shubman Gill sees his partnership with Rohit Sharma as a pivotal asset for India's upcoming ICC Men's Cricket World Cup on home turf in October and November. In ODI cricket, their combined efforts have already yielded an impressive 685 runs at an average of 76.11 across nine innings, rising to an outstanding 85.37 when excluding their single partnership where they didn't open the batting.
The partnership's significance looms large as India seeks to replicate their 2011 World Cup glory. Speaking to ICC, Gill praised Rohit's calming presence, allowing batters to freely express their game.
"It feels great to be able to open with him, especially knowing that all the focus is on him. He's someone who likes the other batters to go and just express himself and play the way I want to play the game. So in that nature, he gives the players full freedom for how they want to express their game," expressed Shubman.
This sentiment echoes the encouragement that fellow newcomer Yashasvi Jaiswal received after his Test debut century in July. Skipper Rohit, reflecting on their partnership, shared the crucial advice of instilling confidence by reassuring Jaiswal that he truly belonged in the Test arena.
"In the middle, it was just about having a chat, letting him know, 'You belong here'. That is the most important thing because when you're playing your first Test match, you kind of keep asking yourself whether you belong here or not," reminisced Rohit.
Rohit not only imparts confidence to Gill but their right-handed partnership in white-ball cricket poses a significant threat to the opposing team. The duo has achieved half-centuries in six out of eight opening partnerships, including a formidable 143 against Sri Lanka in Guwahati and 212 against New Zealand in Indore. Their diverse batting approaches and scoring abilities challenge bowlers and captains, demanding tailored strategies for each.
"I think because his (Rohit's) targeted areas are a bit different. He loves to go aerial in the Powerplay. And I'm someone who likes to find the gaps and keep getting those boundaries, and he's someone who likes to hit sixes. So I think that combination works well," added Gill.
Before the ICC Men's Cricket World Cup, the duo will reunite during the Asia Cup in Sri Lanka. Subsequently, India faces Australia in a home ODI series, followed by their World Cup opener in Chennai on October 8th against Australia once more.
Last Updated on August 23, 2023