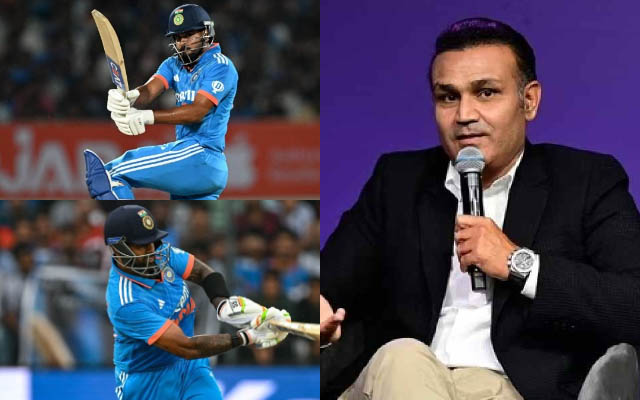 In the ongoing debate between Shreyas Iyer and Suryakumar Yadav for the No. 4 spot, Virender Sehwag believes that Shreyas has solidified his claim through consistent performances.
As the ICC Cricket World Cup approaches, the Indian batting lineup has showcased its prowess, evident in strong performances during the Asia Cup and the recent ODI series against Australia. However, this success has led to a welcome dilemma – an abundance of talent. Suryakumar Yadav has added to the spot with his explosive batting display against Australia on home soil.
In the middle order, India already boasts the likes of KL Rahul and Shreyas Iyer, both in exceptional form with centuries to their names. Additionally, Ishan Kishan has demonstrated versatility, capable of batting anywhere and rescuing innings when required.
The intriguing proposition lies in the X-factor that Suryakumar Yadav brings with his fearless approach, making a compelling case for inclusion, possibly at No. 6. Nonetheless, his entry into the lineup necessitates a tough decision, perhaps involving the exclusion of Shreyas Iyer, given Rahul's certainty in the side, as he will also be keeping wickets.
Virender Sehwag firmly believes that Shreyas Iyer has cemented his position at No. 4 with his recent century and his ability to stabilize the innings, making any change unnecessary. He also emphasized that Suryakumar Yadav is yet to exhibit his capability to rescue an innings and register centuries in ODIs.
"To adjust someone at no 6, why do you want to change the no 4 which is the most important position? Shreyas Iyer has just scored a century and he's someone who can stabilise an innings if you lose wickets against the new ball and score big. So don't disturb that," Sehwag said when speaking to Cricbuzz.
"Suryakumar Yadav hasn't played an innings like that in ODIs because all his runs have usually come in the last 15 overs. It's like T20, no doubt it's important but KL Rahul, Hardik Pandya and Ishan Kishan can do the same job. So, in my view, Shreyas Iyer is quite fit for the no 4 slot. Suryakumar Yadav will have to wait. He will have to prove to selectors and management that he's capable of scoring hundred," he added.
Rohan Gavaskar concurred with Sehwag, emphasizing that consistency should prevail. With Shreyas Iyer's recent century and a well-thought-out batting order developed over the past few years, Gavaskar saw no reason for alterations when everyone is in form.
Last Updated on September 29, 2023