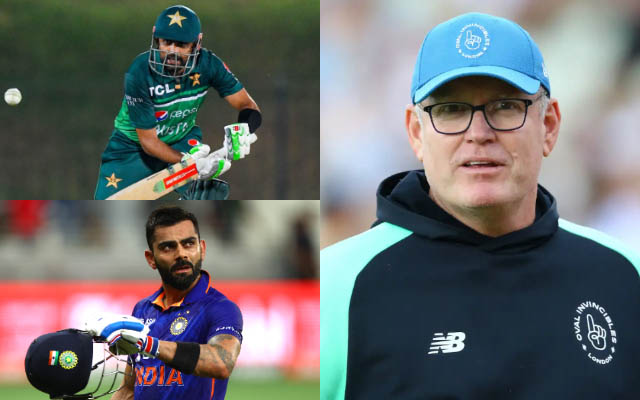 Tom Moody has noted that Babar Azam's astute game reading and authentic cricket shots evoke a striking resemblance to Virat Kohli, who has showcased such skills for more than a decade.
Ahead of the highly anticipated India-Pakistan clash in the upcoming 2023 Asia Cup, former Australian cricketer Tom Moody has weighed in on the comparisons between batting maestro Virat Kohli and Pakistan's captain, Babar Azam. The 28-year-old Babar often likened to the cricketing giant Kohli, currently holds the top position in the ICC ODI Rankings due to his consistent performance in the 50-over format over the past couple of years.
Kohli, having regained his form during the previous Asia Cup, continues to dazzle in all formats with a couple of ODI centuries this year.
Moody has aptly pointed out the striking resemblance in their game approach and the authenticity of their cricketing strokes. He also expressed how he finds it challenging to predict which of the two, Virat Kohli or Babar Azam, will outperform the other in the Asia Cup, as both will be under immense pressure to lead their respective teams to victory.
"I think absolutely he is. He does remind me very much of Virat Kohli, the way he goes about his business. He plays authentic cricket shots. He seems to understand, read the game very well, which Kohli has done for over a decade. He is a good chaser as well, like Virat Kohli has proven to be over many, many years," said Moody when talking on Star Sports.
"So, there's so much likeness between the two and I wouldn't go as far as saying that Virat is gonna have a better Asia Cup than Babar Azam, but they both can have equal pressure on them and it's gonna be a delight to watch them both bat because they are box office," he added.
Commencing their Asia Cup journey, India is scheduled to confront Pakistan on September 2, with the intriguing possibility of these arch-rivals crossing paths up to three times in the tournament, should they progress to the final stage.
Last Updated on August 27, 2023