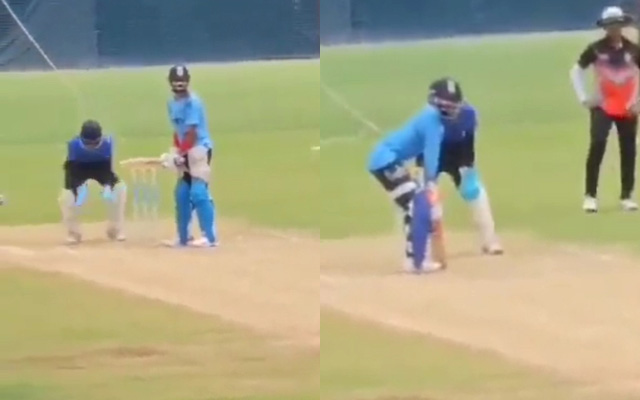 As the Asia Cup 2023 showdown with Pakistan approaches, star batsmen Virat Kohli and Ravindra Jadeja teamed up for a rigorous practice session in the nets.
The 16th edition of the Asia Cup has propelled all participating teams into action mode as they gear up for their matches in the upcoming tournament. The event, commencing on August 30 with a match between Pakistan and Nepal, will see India embarking on their campaign with a highly anticipated showdown against Pakistan in Kandy, Sri Lanka, on September 2.
In the lead-up to this intense encounter, Indian cricketers engaged in a rigorous training camp on Sunday, August 27. Notably, former Indian captain Virat Kohli and star all-rounder Ravindra Jadeja were captured batting together in the nets during the practice session held at Alur, Bengaluru.
Virat Kohli and Ravindra Jadeja batting together in the practice session. pic.twitter.com/MfAta34EEQ

— Mufaddal Vohra (@mufaddal_vohra) August 27, 2023
As anticipation builds for the forthcoming Asia Cup 2023, cricket enthusiasts are in for a treat with the return of the limited-overs format. This alteration is a strategic move in light of the upcoming ODI World Cup slated to be hosted in India later this year.
The tournament's structure will feature two groups, each comprising three teams. These teams will engage in a thrilling single round-robin format, setting the stage for intense clashes. Following this stage, one team will bid adieu to the competition, while the remaining contenders advance to the gripping Super Four.
Adding to the intrigue, Asia Cup-bound players have been subjected to their routine fitness assessments, including the mandatory yo-yo test.
READ MORE | Shubman Gill Sets the Yo-Yo Test Bar High with an 18.7 Score; Outshines Virat Kohli and Others
Notably, former Indian captain Virat Kohli showcased his mettle by securing a score of 17.2 in the test, while emerging talent Shubman Gill impressively recorded a score of 18.7.
Last Updated on August 28, 2023