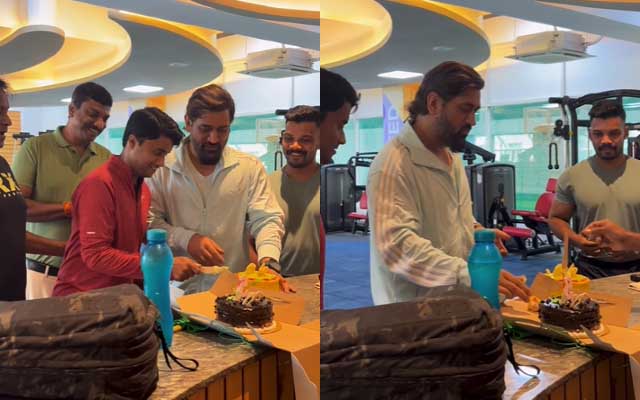 MS Dhoni celebrated a birthday by cutting a cake with his gym buddies and sharing the hilarious moment in a viral Instagram video.
In a heartwarming video, former India skipper Mahendra Singh Dhoni once again proved he's just as down-to-earth as ever. A clip of him cutting and sharing a birthday cake with his gym buddies has taken social media by storm.
Dhoni, who recently led the Chennai Super Kings to their fifth IPL title, is leaving no stone unturned in his quest to stay fit for the next season of the league. And guess what? The legendary wicketkeeper-batsman hasn't called it quits on the IPL just yet. After this year's final, he playfully teased that he might be giving fans another season of cricketing magic.
"Hum khilayenge (I will serve). Kaun kaun kha Raha hai Aur kaun kaun dieting pe he vo batao (who's dieting and who's eating, first tell me that)," Dhoni playfully quipped while cutting the cake in the viral Instagram video.
Despite grappling with a persistent injury throughout the previous IPL season, Dhoni valiantly led the Chennai Super Kings to their fifth title. His determination was evident as he overcame visible discomfort, often limping, yet maintaining his and the team's performance. He tactically adjusted his batting order, entering the fray in the final overs to maximize scoring opportunities.
Following the season's conclusion, Dhoni wasted no time and promptly traveled to Mumbai for a successful knee surgery at Kokilaben Hospital, as confirmed by CSK CEO Kasi Viswanathan to PTI.
"Looking for an answer? Circumstantially, this is the best time to announce my retirement. But the amount of love I have received all over. The easy thing would be to walk away from here, but the harder thing would be working hard for 9 months and try to play another IPL. It would be a gift from me, won't be easy on the body," Dhoni stated following the IPL 2023 final, confirming his intent to participate in the next Indian Premier League season.
Last Updated on August 26, 2023