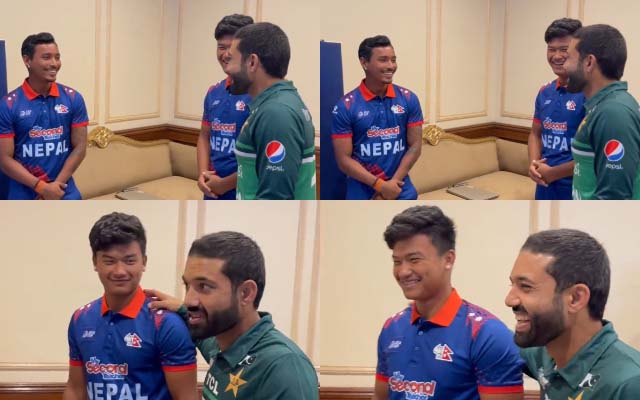 The viral video featuring Pakistan's Mohammad Rizwan engaging in a heartwarming and humorous exchange with Nepal's young cricketers ahead of the Asia Cup has captured the cricketing world's attention.
The cricketing world is abuzz with anticipation as the Asia Cup 2023 gears up to commence on August 30th. The prestigious tournament's opening clash will see hosts Pakistan facing off against Nepal at the iconic Multan Cricket Stadium. As a prelude to this thrilling encounter, Pakistan Cricket has delighted fans by sharing an endearing video featuring the young Nepali players.
In the heartwarming footage, Nepali players engaged in a conversation with Pakistan's star wicketkeeper-batsman, Mohammad Rizwan. The video captures a jovial and informative exchange between the players, as Rizwan imparts cricketing wisdom to the budding talents.
However, what truly lit up the video was Rizwan's playful banter. In a lighthearted tone, he quipped, "Kisi cheez ki zaroorat ho to hum hai (If anything is needed, we are present)," before adding with a grin, "Don't tell me." His witty remark sent everyone present into fits of laughter.
🇵🇰🤝🇳🇵@iMRizwanPak interacts with the @CricketNep players in Multan.#AsiaCup2023 pic.twitter.com/MDcyO6oHFY

— Pakistan Cricket (@TheRealPCB) August 28, 2023
As Pakistan gears up to face Nepal in their first-ever international cricket clash, it's worth noting that Nepal, though lesser-known, boasts a respectable track record. In their 57 matches, they've triumphed in 30 encounters and faced defeat 25 times. Notably, they've vanquished teams like the Netherlands, UAE, USA, PNG, Oman, Scotland, and Namibia. Yet, their true test awaits as they prepare to take on cricket's heavyweights in the Asia Cup, promising an exciting spectacle for fans.
Last Updated on August 28, 2023