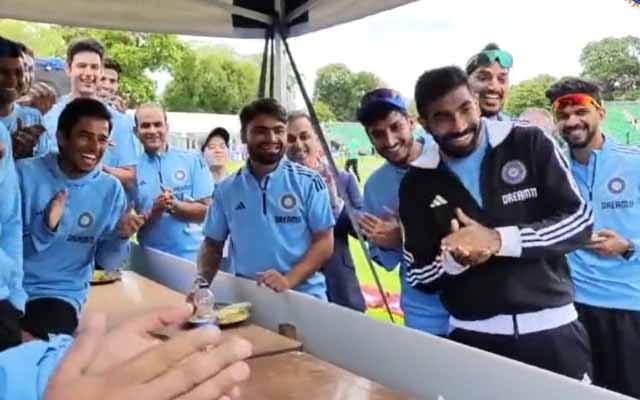 Chandrayaan-3's lunar success had the Indian cricket team celebrating in Dublin, with Rohit Sharma, Hardik Pandya, Suryakumar Yadav, and others congratulating the achievement.
In an extraordinary moment, Chandrayaan-3 achieved a historic lunar landing, capturing the attention of the Indian cricket team in Dublin just before their third T20I showdown against Ireland. Adding to the jubilation, cricketers from past and present came together to celebrate this momentous achievement.
Team India's captain, Rohit Sharma, vice-captain Hardik Pandya, and Suryakumar Yadav, among others, took to social media platform X to extend their congratulations, while the BCCI treated fans to a heartwarming video of the Indian players reveling in the success of the Chandrayaan-3 mission.
🎥 Witnessing History from Dublin! 🙌

The moment India's Vikram Lander touched down successfully on the Moon's South Pole 🚀#Chandrayaan3 | @isro | #TeamIndia https://t.co/uIA29Yls51 pic.twitter.com/OxgR1uK5uN

— BCCI (@BCCI) August 23, 2023
India made history with the successful lunar landing of Chandrayaan-3's Lander Module (LM), becoming the fourth nation to achieve this remarkable feat and the first to reach the uncharted south pole of the moon. This achievement, on the second attempt in four years, solidifies India's prowess in soft-landing technology, following the US, China, and the former Soviet Union.
See more posts from X, where Indian cricket stalwarts like Sachin Tendulkar, Suryakumar Yadav, Gautam Gambhir, Dinesh Karthik and many others shared their sheer joy and excitement.
विजयी विश्व तिरंगा प्यारा, झंडा ऊँचा रहे हमारा
@ISRO represents the best of India. Humble, hardworking women & men, coming together, overcoming challenges, and making our tricolour fly high.

India must celebrate and congratulate the Chandrayaan-2 team, which was led by Shri K… pic.twitter.com/WpQn14F1Mh

— Sachin Tendulkar (@sachin_rt) August 23, 2023
Historic! We are now on the moon! 🛰️

Congratulations to my fellow Indians on the successful landing of Chandryaan-3! So proud of our nation and its continuous progress and success. 🇮🇳
We will keep going 💪

— Surya Kumar Yadav (@surya_14kumar) August 23, 2023
🇮🇳 – The 𝐟𝐢𝐫𝐬𝐭 𝐧𝐚𝐭𝐢𝐨𝐧 to reach the lunar south pole.
That's got a nice ring to it 👏

A proud moment for each one of us & a big congratulations to @isro for all their efforts.

— Rohit Sharma (@ImRo45) August 23, 2023
Hello Moon! 👋🌕

Sooo proud of everyone at @isro for making this possible and giving every Indian a moment to cherish for a lifetime.
Many congratulations! 🎉#Chandrayaan3 pic.twitter.com/cJ3bNYX2Px

— DK (@DineshKarthik) August 23, 2023
Yaaaaayyy , We have done it.
Soft landing on the Moon.#Chandrayaan3 .

Congratulations @isro and all those who dedicated themselves to this historic mission.
We are on the Moon 🌙 pic.twitter.com/VZLLgeSLEk

— Virender Sehwag (@virendersehwag) August 23, 2023
Last Updated on August 23, 2023