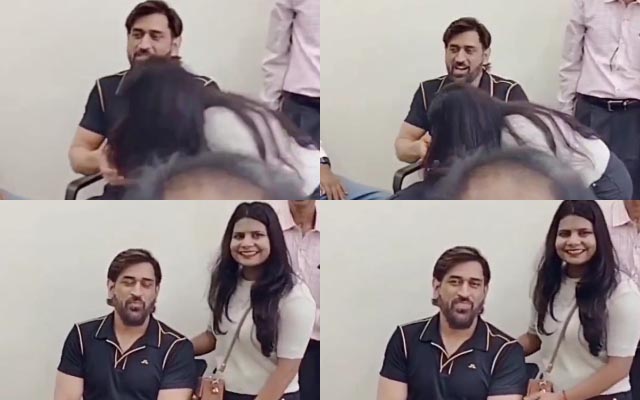 In a viral social media video, a fan attempts to touch MS Dhoni's feet, and in response, the cricket legend gracefully encourages her to shake hands instead.
MS Dhoni, the revered former Indian captain and wicketkeeper-batsman, stands as a global cricket icon. His remarkable journey, marked by dedication and focus, continues to inspire. Although retired from international cricket for three years, fans' unwavering love and respect for him endure, a testament to his enduring legacy.
A recent viral video portrays a heartwarming encounter with MS Dhoni. As a female fan attempts to touch his feet, the cricket legend gracefully redirects her gesture, opting for a handshake. The clip also features the fan taking photos with the iconic player, showcasing the deep admiration he continues to command.
A fan touched MS Dhoni's feet upon meeting her idol.

An icon – MS…!! pic.twitter.com/RPaqFZv8xm

— Mufaddal Vohra (@mufaddal_vohra) August 27, 2023
From a humble ticket collector at a railway station to India's triumphant cricket captain, MS Dhoni's journey is remarkable. He clinched the ICC T20 World Cup in 2007, the ICC ODI World Cup in 2011, and the ICC Champions Trophy in 2013. Dhoni's captaincy legacy is legendary.
Despite his massive fan following, Dhoni remains notably absent from social media, leaving fans reliant on viral content for glimpses of the retired international cricket icon. He continues to shine in the Indian Premier League, leading Chennai Super Kings to a record-equalling fifth title in IPL 2023.
Last Updated on August 27, 2023