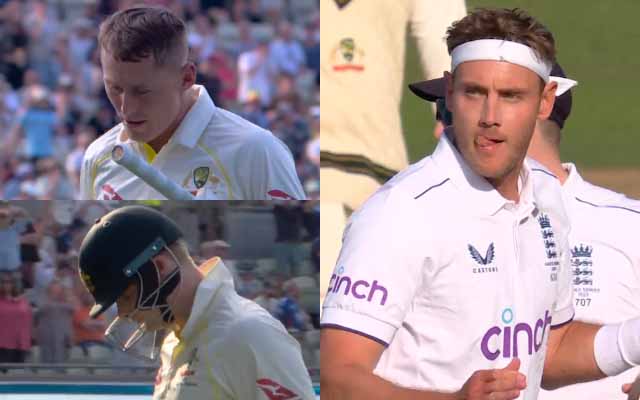 Australia needed 281 runs to win the first test of Ashes 2023. David Warner and Usman Khawaja got Australia to a great start and put on a brilliant 50-run partnership.
David Warner was the first man to fall of Ollie Robinson's bowling and Australia lost their first wicket at 61. Marnus Labuschagne came in at No.3 but his stay at the crease was not for too long.
Stuart Broad go the better of the No.1 and No.2 Test batters Marnus Labuschagne and Steve Smith in the second innings of the first test of Ashes 2023.
Stuart Broad once again got the better of the No.1 Test batter Marnus Labuschagne. He got him out both times in the test and Marnus had no clue on how to play against Broad's fiery out-swingers.
Stuart Broad in the second innings also got the big wicket of the No.2 Test batter Steve Smith. An excellent out-swinger, Steve Smith tried to play a shot, caught the edge and Jonny Bairstow, the keeper did the rest.
Stuart Broad was on fire on Day 4, and he almost took his third wicket in the last over of the day of Scott Boland.
Australia need 174 runs to win the game while England need 7 wickets. It will be an exciting final day and we will have to wait and watch to see who ends up on the winning side.
Watch the video here:
For More News and Updates Follow:
Last Updated on June 20, 2023