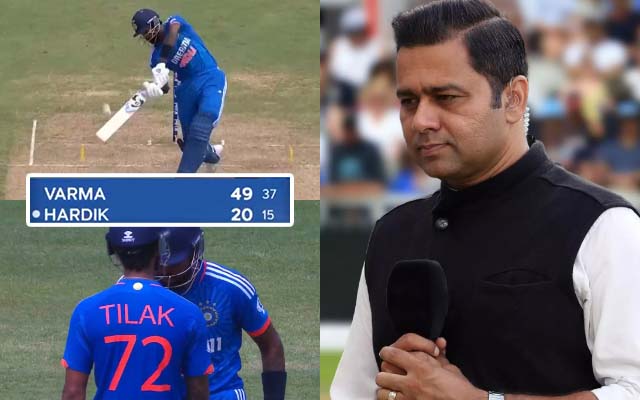 Former Indian opener Aakash Chopra expressed dissatisfaction with Hardik Pandya's final-ball six that secured victory for India in the 3rd T20I, as it prevented Tilak Varma, who was unbeaten at 49, from having a chance to complete his half-century.
Amidst the ongoing five-match T20I series against West Indies, 20-year-old debutant Tilak Varma has emerged as Team India's standout performer. Despite the series currently standing at 2-1 in favor of the hosts after three matches, Tilak leads the run-scoring charts, showcasing his remarkable talent.
In a must-win clash at Guyana's Providence Stadium, Tilak played a controlled 49-run inning, adapting as Suryakumar Yadav seized the spotlight. However, his unbeaten streak was halted at 49 by Hardik Pandya's final-ball six, sparking criticism from former opener Aakash Chopra.
Aakash Chopra lamented the missed opportunity for Tilak Varma to secure his second fifty in three games, given that Hardik Pandya concluded the match with 13 balls unused. Chopra emphasized that Pandya had himself advised Tilak to ensure an unbeaten return. However, in a surprising twist, Pandya attempted power hits in the 17th over to conclude the match.
Praising Varma's performance on his YouTube channel, Chopra remarked, "Tilak Varma, outstanding. First Indian to get 30+ scores in his first three international innings. He scored a fifty in his previous games and was close to another this time too, in fact, it should've been a fifty."
Continuing, he added, "Hardik comes to bat, tells him it's important to remain not out, don't get carried away. Then Hardik hits aggressive hits… you don't need NRR, it would've made no difference. He told Tilak to go easy but tried to hit big shots himself. You needed 2 runs off 13 balls, and he smashed a six. I'm sure they want to build a culture that doesn't care about individual milestones. But even a not-out doesn't really matter here, even if you were out there, you still had 12 balls there to score 2 runs. Tilak was denied a chance to score a fifty. That's just my opinion, though."
The act by Hardik has been branded 'selfish' by fans on Twitter who didn't shy away from criticizing the skipper.
Hardik Pandya smashes it for six to pull India back to 2-1 against West Indies in the T20I Series 🇮🇳#WIvIND pic.twitter.com/ryMVO522YY

— Cricket on TNT Sports (@cricketontnt) August 8, 2023
Last Updated on August 9, 2023