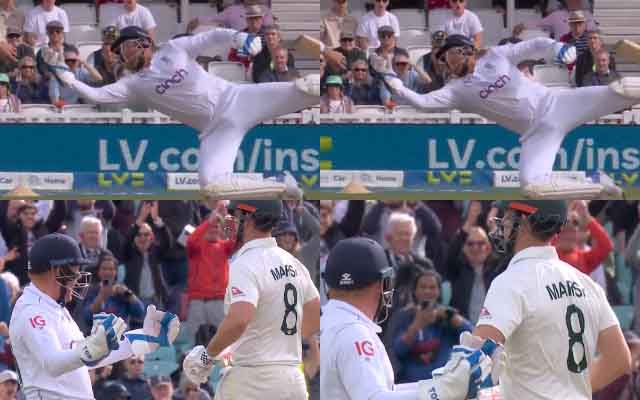 England's resurgence on Ashes Day 5 came in full force after the rain interruption, decimating the Australian middle order. First, the partnership between Travis Head and Steve Smith was broken and shortly after, Mitchell Marsh succumbed to England's attack.
Facing scrutiny over his keeping, Jonny Bairstow silenced critics with a stunning one-handed catch. As the ball took an inside edge, hit Marsh's pads, and bounced up, Bairstow's agile dive to the right secured a moment of brilliance.
Moeen Ali's splendid delivery spun sharply from the rough outside off, catching the inside edge and then brushing the pad before popping up onto Marsh's chest. As the ball deflected into the offside, Bairstow leaped into action with lightning reflexes, flinging his right hand out to execute an extraordinary catch. Diving to his right, he managed to cling onto the ball, leaving the crowd in awe of his stunning precision.
OH MY BAIRSTOW! 😱#EnglandCricket | #Ashes pic.twitter.com/kupdlthVIU

— England Cricket (@englandcricket) July 31, 2023
Last Updated on July 31, 2023