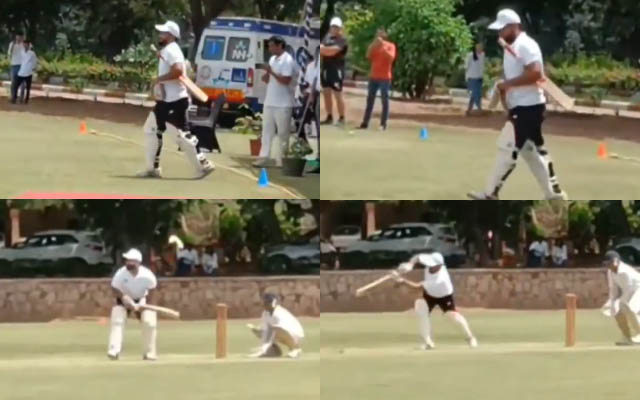 Amidst a tough recovery phase, Rishabh Pant's batting practice and resilience stand out. His unwavering spirit, reflected in his social media updates and his reference to the incident as his 'second birth,' is truly inspiring.
The highly anticipated comeback of Indian cricket's star wicketkeeper-batsman, Rishabh Pant, has been a topic of fervent interest among fans. After a devastating road accident on December 30, 2022, which inflicted serious setbacks on his career, Pant endured multiple injuries, including a critical right knee issue demanding ligament reconstruction surgery. Now, over seven months later, his steady recovery is visibly promising.
A video released on August 15th showcased Rishabh Pant's impressive batting practice in the nets, underlining his remarkable recovery journey. Demonstrating considerable progress, the video revealed his enhanced form and physical condition.
Rishabh Pant's batting practice, recovery has been excellent.

– Great news for Indian cricket. pic.twitter.com/KThpdkagDz

— Johns. (@CricCrazyJohns) August 16, 2023
Following the car crash aftermath, Rishabh Pant faced exclusions from several significant tournaments, such as the Indian Premier League 2023 and the World Test Championship Final. Despite these setbacks, he exhibited unwavering determination by persistently training and sharing updates with his followers on social media. Notably, he referred to his ordeal as his 'second birth' in a post on July 1.
The Board of Control for Cricket in India (BCCI) issued a promising progress report on July 21. It highlighted Pant's resumption of wicketkeeping practice at the National Cricket Academy (NCA), with the BCCI meticulously monitoring his journey to recovery. The press release elaborated on Pant's comprehensive rehabilitation regimen, comprising strength conditioning, flexibility routines, and running drills.
Fueling the positive outlook, additional sources indicate that Rishabh Pant might comeback to the Indian cricket squad during the anticipated England tour of India in January 2024, set to feature a five-match Test series.
Last Updated on August 16, 2023