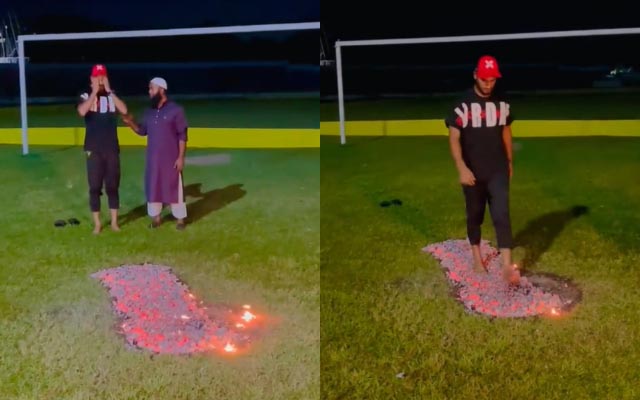 In anticipation of the Asia Cup, Bangladeshi cricketer Mohammad Naim Sheikh has embarked on an unusual path to mental preparation, demonstrating his unique approach by walking on fire as a component of his training routine.
In less than a fortnight, the highly anticipated Asia Cup 2023 will kick off. Amidst the teams' preparations for the tournament, the spotlight has turned to an unconventional training technique employed by Bangladesh's opening batsman, Mohammad Naim Sheikh. The player has taken an unorthodox approach, quite literally, by walking on fire as part of his 'mind-training' regimen in the lead-up to the event.
A circulating video on social media captures him confidently traversing fiery embers. This distinctive method of preparation has undoubtedly captured the attention and underscores players' commitment to exhaust all avenues for Asia Cup readiness.
Naim Sheikh working with a mind trainer ahead of Asia Cup. pic.twitter.com/mkykegJ06p

— Saif Ahmed 🇧🇩 (@saifahmed75) August 18, 2023
Owing to political dynamics, India's non-participation in matches on Pakistani soil has prompted an innovative approach – the hybrid model. On August 30, the series starts with a Pakistan-Nepal face-off in Multan, Pakistan. September 2, sets the stage for the epic India-Pakistan showdown in Kandy, Sri Lanka, followed by an intriguing India-Nepal clash on September 4 at the same venue.
The tournament's structure revolves around two groups, with the top duo from each advancing to the Super Four stage. Here, a rematch between all teams awaits. As the dust settles, the leading pair will stamp their passports to the grand finale scheduled for September 17 in Colombo.
Pakistan assumes the host role for various groups and one Super Four match, while Sri Lanka takes the baton for the remainder. Anticipation builds for a display of exceptional cricketing prowess from Asian talents, poised to shine on the grand stage.
Last Updated on August 19, 2023