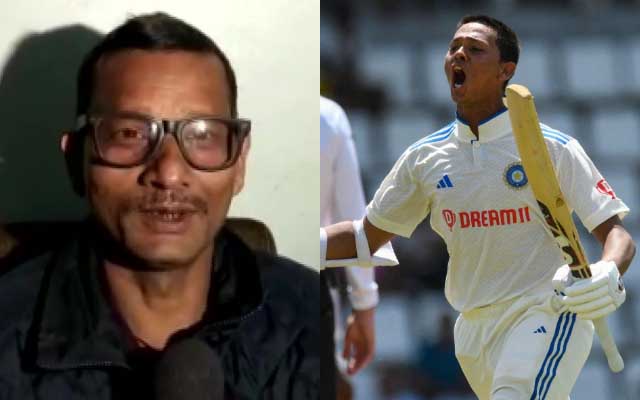 Yashasvi Jaiswal left an indelible mark on his Test debut against West Indies by delivering a breathtaking performance. The young talent showcased his potential and determination by smashing a stunning century in the first Test match, laying the groundwork for a comprehensive victory that saw India triumph within three days.
Facing 387 balls, Jaiswal's innings of 171, adorned with 16 fours and a six, surpassed all expectations and broke the record for the most deliveries faced by an Indian on a Test debut.
After reaching the coveted three-figure milestone on Day 2, the emotional Jaiswal made a phone call to his father, Bhupendra, in the early hour of 4:30 am. In the heartwarming conversation, tears of joy flowed as father and son shared a moment of immense pride and love, celebrating Yashasvi's remarkable accomplishment on the grandest stage of cricket.
"He (Jaiswal) made the call around 4:30 am in the morning after reaching his century on Day 2," said Jaiswal's father Bhupendra to Hindustan Times. "He couldn't hold back his tears. I cried too. It was an incredibly emotional moment. He couldn't speak for a long time. He was exhausted. He just asked me, 'are you happy, father?'," Bhupendra added.
"It felt wonderful to receive the Player-of-the-Match award on my debut. It's been a long journey, and I am feeling extremely happy and content about it. Let's see what the future holds for me; this is just the beginning of my international career. I pray to God that I continue playing like this, keep making efforts, and contribute to the team's success," said Jaiswal.
India's captain, Rohit Sharma, was at the crease when the 21-year-old achieved his century. Together, they built an impressive 229-run partnership for the first wicket.
"He's got the talent," Rohit praised Jaiswal. "We knew about it. He's shown us in the past couple of years that he's ready for this big stage. He batted sensibly, exhibited a lot of patience, and maintained his composure throughout – at no point did it seem like he was panicking or deviating from his plans, which was a pleasure to witness."
Last Updated on July 16, 2023