Sportsbet io is an exciting sportsbook that you can take advantage of today, and we will examine everything that you can expect to find on the site in this Sportsbet.io review. You'll find out everything you need to know about the sportsbook, including their welcome bonuses and the sports markets that you can bet on with Sportsbet.io. Learn more about:
About Sportsbet.io India
Which Are the Sportsbet io Bonus Offers
Sportsbet.io India Payment Methods
Sportsbet.io Sportsbook Features
Extensive Sportsbet.io App Review & Download
Is Sportsbet.io Real or Fake?
Quick facts on Sportsbet.io India
| | |
| --- | --- |
| Deposit & Withdrawal Methods | UPI Skrill Neteller Crypto Currencies AstroPayVisaMastercardNetBanking |
| Most Popular Payment Methods | Bitcoin, Ethereum, Litecoin |
| Popular Sports | Cricket, Football, Tennis |
| Mobile Betting Apps | Android |
| Products | Sportsbetting, Live Casino, Casino |
| Support | Live Chat and Email |
About Sportsbet.io India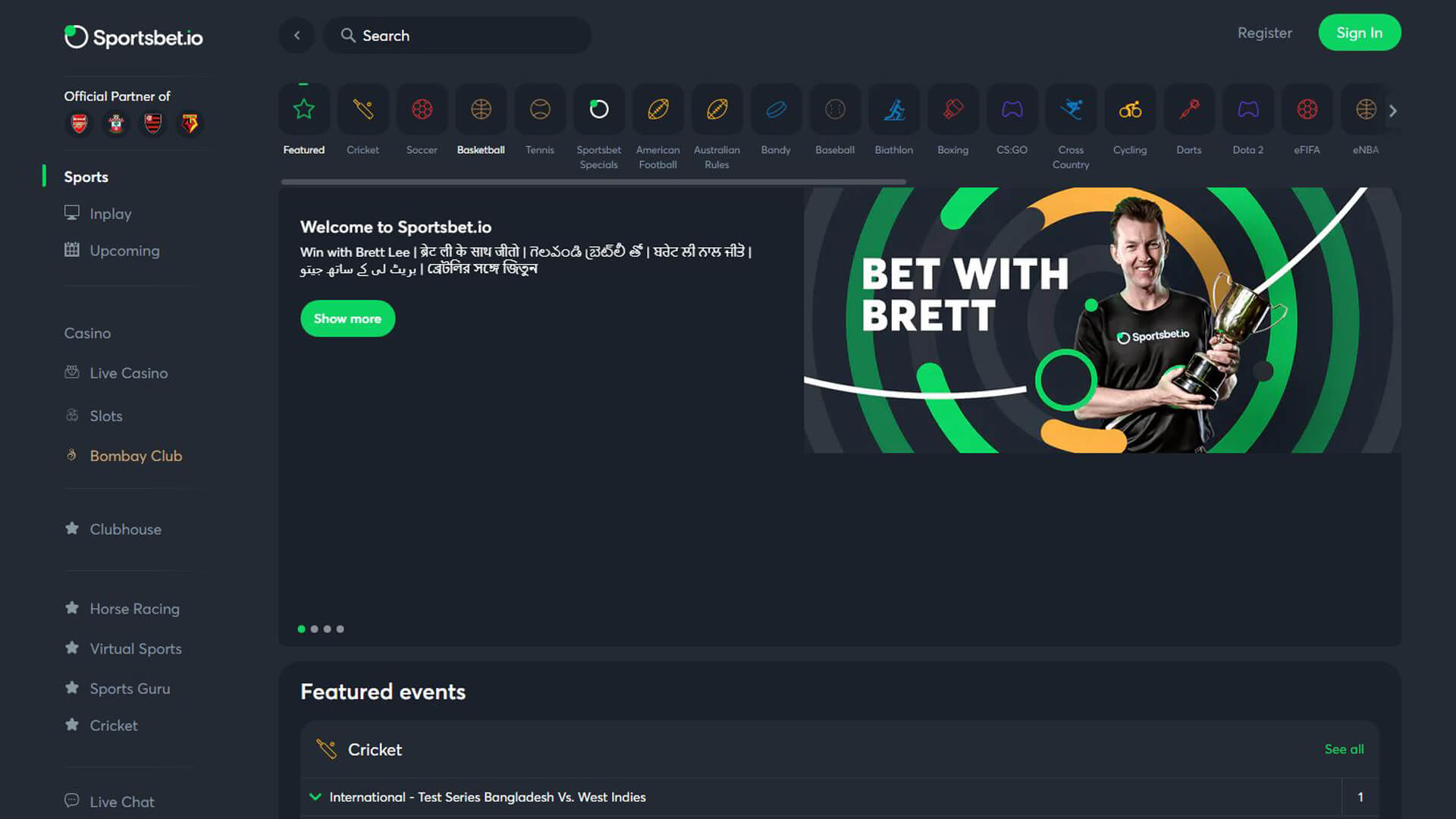 During this Sportsbet.io review, we realize that the Sportsbet.io sportsbook is one of the fastest ways to place a bet. In addition, you can place your Sportsbet.io bet on both the pre-game and in-play markets. Moreover, the Sportsbet.io brand is favorite among football gamblers. Surely, this is proven by the fact that they sponsor the Brentford Football Club. Furthermore, the Sportsbet.io site is gaining popularity across the world. In short, that is down to the trust that they have built up with customers since opening their doors in 2016. You can learn more about what is on offer below in this Sportsbet.io review.
What Are the Sportsbet.io Bonus Offers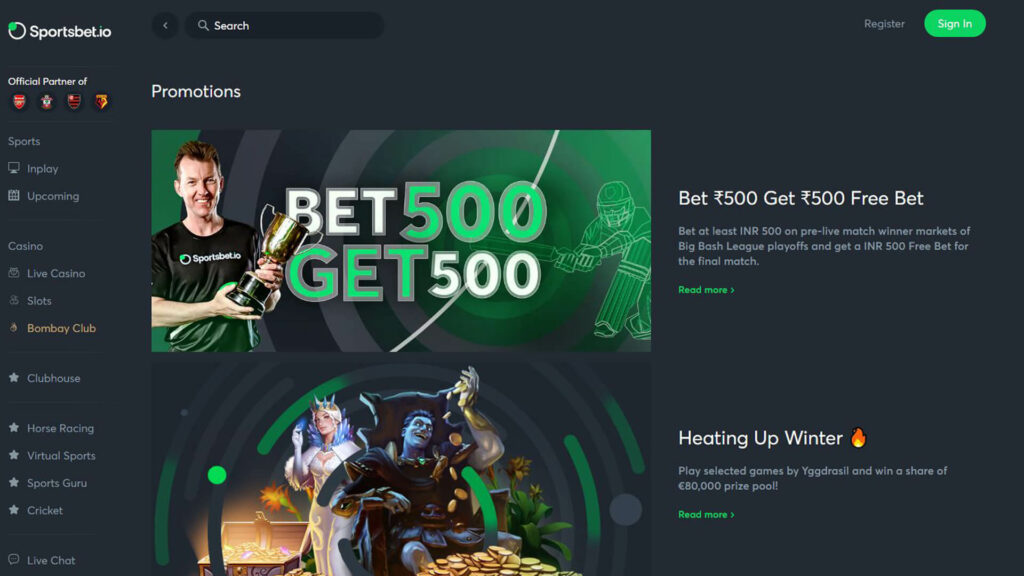 It is easy to see why the Sportsbet.io apk app on Android is a popular choice for those that like to bet on the move. First, there is an excellent Sportsbet.io welcome bonus available to take advantage of. In addition, you can get a 100% matched bonus on your first Sportsbet.io deposit. In general, you can use the Sportsbet.io deposit bonus on all the sports and markets.
However, you need to meet the wagering requirements to take advantage of any Sportsbet.io bonus. In addition, the Sportsbet.io deposit bonus is only available to new customers in qualifying countries. Regardless, during this Sportsbet.io review, we find it to be one of the best welcome bonuses available online in India.
Sportsbet.io Review – Bonus Promotions & Loyalty Programmes
Every player on this site will be happy to receive a sportsbet io bonus. The most popular type is the welcome bonus or Sportsbet.io deposit bonus. In short, any new Indian players receive a sum of free credit to help them start playing with confidence. However, it is all too easy to overlook the return players, who really bring life to the site. That's why good betting sites offer regular promotions and loyalty programmes.
These can range from VIP programmes, where Sportsbet.io awards repeat plays by loyalty points and leveling up. In addition, high level VIP players will get special treatment and Sportsbet.io bonuses unavailable to others. Other deals include opportunities to take part in regular events, such as sportsbet.io's monthly raffle.
Sportsbet.io Deposit and Withdrawal Time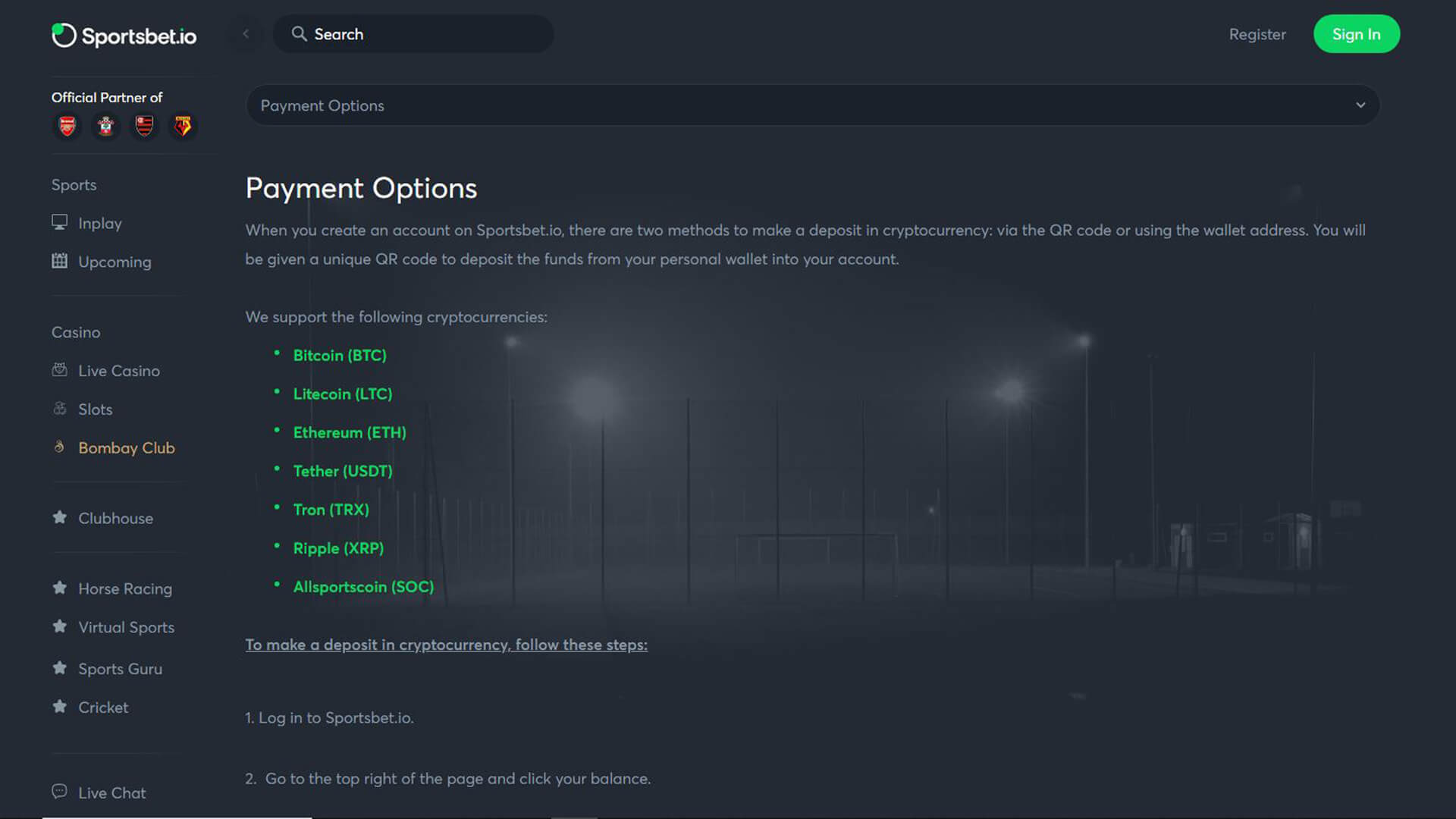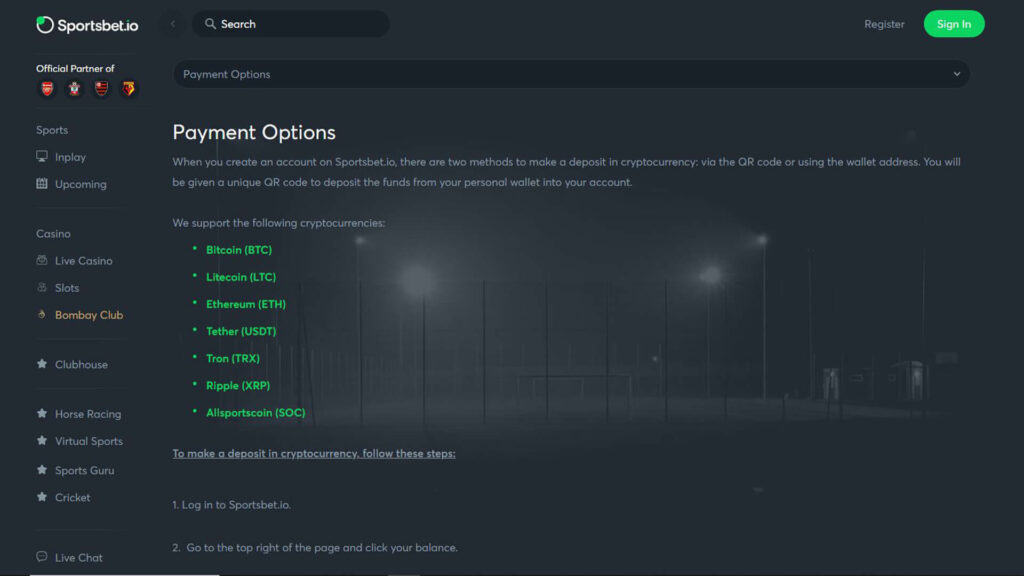 There is an excellent number of methods to deposit and withdraw funds from your Sportsbet.io account available. Here, you can learn about those in this section of the Sportsbet.io review.
Sportsbet.io Review – Payment Methods
It is in the best interest of a betting site to make payment options as flexible as possible. If players cannot deposit and withdraw funds using their preferred method, they will find a casino where they can. However, casinos need to comply with all regulations concerning money laundering. Therefore, many are cautious about some payment methods.
Sportsbet.io Bitcoin Deposits and Withdrawals
The rise to international fame of cryptocurrencies has been one of the most interesting developments in the world of finance. For example, virtual currencies, creates and gives value and integrity through blockchain technology. Indeed, this is changing the way people think about money. In general, enthusiasts talk about how the nature of crypto helps prevent monopolies and protects anonymity.
Nowadays, an increasing number of casinos accept cryptocurrencies such as Bitcoin for their deposits and withdrawals. Basically, Indian players who make their transactions in crypto prize their anonymity. Especially since these occur without needing to go through a bank or other intermediary. They also appreciate how fast cryptocurrency transactions take place. Deposits into a betting account are instantaneous, while withdrawals tend only to take 24 hours or so.
As more casinos accept crypto as a payment method, some of the most enterprising ones are even promoting themselves as exclusively crypto casinos. These only deal in Bitcoin and the like, although it's possible to transfer fiat currency into accounts. However, it is then converted into the required cryptocurrency.
These casinos often offer cryptocurrency games, which are themselves run by the blockchain algorithm. This ensures a truly fair experience, as the casinos cannot impose as much of a house edge on the odds. Equally, the blockchain makes a great Random Number Generator (RNG).
Bitcoin Deposits and Withdrawals Using FIAT Currency
Naturally, casinos don't want to miss out on all other forms of payment either. Despite the current popularity of crypto, it's a fact that the vast majority of the world still deals in fiat currencies. However, a smart operator will localize the options and the currencies that they accept.
For example, the sportsbet.io review points out that this site accepts payments in Indian rupees. Other sites only accept currencies such as the US dollar, UK pounds and Euros, converting them into the local currency as deposits take place. However, the best way to grow a loyal local audience is to allow them to make the payments directly in their own currency. In addition, by using the payment method that they trust the most.
Sportsbet.io Login Process
A newcomer to an online casino wants to get up and running as soon as possible. A long and difficult registration process is the last thing anyone wants. Luckily, sites like sportsbet.io India recognize this and streamline things as much as possible.
Online security has made various innovations over the past decade. For example, one of the most important has been two-step verification. Here, a user needs to confirm their identity after submitting their personal details. This is done using another medium, such as a code sent to a mobile phone or a request to confirm via email. This way, somebody can prove they are who they claim without needing to produce reams of paperwork.
Nevertheless, casino sites remain bound by international regulations and local laws concerning gambling, data protection and money-laundering. This means that they often need to ask for ID documents during registration. In addition, they ask for proof of a legitimate bank account and proof of address. The last one is particularly important when verifying who is allowed to access the site. Many casino sites remain unavailable to players in certain countries or states. However, this is something we appreciate in our Sportsbet.io review as it is important that players fund is secure.
Sportsbet.io Deposit Methods 
These are the methods that you can use to deposit funds to your Sportsbet.io app account.
| | | |
| --- | --- | --- |
| Payment Method | Minimum Amount | Processing Time |
| Visa/MasterCard | INR 800 | Instant |
| EcoPayz | INR 800 | Instant |
| Neteller | INR 800 | Instant |
| Skrill | INR 800 | Instant |
| Bitcoin | 0.0005 | Instant |
| Muchbetter | INR 100 | Instant |
| Astropay | INR 800 | Instant |
| Jeton | INR 800 | Instant |
| CashToCode | INR 800 | Instant |
| StickPay | INR 800 | Instant |
| Paysafe | INR 800 | Instant |
| EcoBanq | INR 800 | Instant |
Sportsbet.io Withdrawal Time
Below you will find the methods that you can use to take funds out of your account.
| | | |
| --- | --- | --- |
| Payment Method | Minimum Amount | Processing Time |
| Visa/MasterCard | INR 1600 | Up to 5 Days |
| EcoPayz | INR 1,600 | Up to 24 hours |
| Neteller | INR 1,600 | Up to 24 hours |
| Skrill | INR 1,600 | Up to 24 hours |
| Bitcoin | 0.001 | Up to 24 hours |
Why Sportsbet.io Stands Out?
Every online betting site operates in a very competitive environment. Each site is looking for unusual features to grab players' interest. In our sportsbet.io review we detailed a few of them.
Sportsbet.io Cash Out
Cash out betting adds an extra thrill to sports gambling. A skilled sportsbet io India player will have knowledge of the betting markets and individual teams or players. In short, this means they can decide when the best moment is to bank some of their winnings while still keeping some skin in the game. Remember, it is only worthwhile cashing out if you can tell that the odds of an outright win are shrinking significantly.
Sportsbet.io Sportsbook and Casino
Our sportsbet.io review notes that the site offers all the facilities of a sportsbook and a variety of Sportsbet.io casino games. This allows the player to enjoy all the different thrills. For example, if you compare table games or slots to betting on live sports matches.
User-Friendly Sportsbet.io Website
Many things go towards making a casino site a truly enjoyable experience. Obviously, there are factors such as the variety and quality of games. In addition, the flexibility of payment options, or the possibility of a rewarding sportsbet io bonus. However, if you are a site operator it is vital that you contain all of these features within a user-friendly website.
Site designers strive to make functionality at the heart of everything. This means easy to identify drop-down menus, simple and logical game categories and a seamless flow between different parts of the Sportsbet.io casino. This should also transfer to options such as sportsbet io mobile.
Finally, a site needs to have a distinctive look, which is also soothing to look at yet exciting. This often leads to sites having a visual theme, while other sites prefer things stripped down and elegant.
Sportsbet.io Casino Games and Software Providers
No casino site will survive for long unless it regularly updates its games and expands its roster. This is where the game providers come in. It is their creativity and technological expertise that makes today's slots and casino games so exciting to look at and to play.
If you look at the output of legit software providers such as Net Entertainment or Pragmatic Play, it never stands still. Popular slots spawn various sequels, such as the Big Bass Bonanza series. In these games, the playing style varies only slightly, but sequels introduce new and interesting features. Throughout, the Bass Fishing theme remains strong, with the graphics and imagery all reflecting the exciting life of a jolly fisherman.
Equally, game providers who specialize in casino games need to keep their table games looking good. They need state of the art realistic graphics and an authentic casino atmosphere. Providers are also highly aware of the demand for live games. Cutting edge technology allows players to interact with the dealers and other players in these games, just as in a real life casino.
Ultimately, the evolution of games will never end. As technology standards improve, so will the output of the games providers. Indeed, all competing to bring the best experience to the player.
Sportsbet.io Review Trust and Safety
Sportsbet.io has quickly become one of the most secure sportsbooks online. Thus their trust is exemplified by the fact that they hold a license from the United Kingdom Gambling Commission. The sportsbook also uses SSL encryption and promotes healthy gambling with links with GamStop and GamCare on the Sportsbet.io website.
Sportsbet.io Review Responsible Gambling
Every good casino takes a part in promoting responsible gambling. The sportsbet.io review notes the site's commitment through its section detailing responsible gambling tips and solutions. Other sites often have special features to help potentially problem gamblers help themselves, such as self-exclusion options. With this, a player can ask the Sportsbet.io casino to lock them out for a period, giving them time to cool off. Other features allow players to self-impose their own maximum limits on deposits or the stakes they can bet.
Essentially, the advice by casinos and government bodies alike boils down to some simple tips. Above all, never gamble more than you can afford to lose. 
Terms and Conditions
Every online review, including this sportsbet.io review, exhorts readers to carefully check Terms and Conditions before signing up or clicking on promotional deals. A good player will always do this. T&Cs are the final statement by the casino. What is written there is accurate and detailed, and gives players a chance to see what the rules are without the flashy graphics and enticing advertising.
Sportsbet.io Review Wagering Requirements
Casino reviews always make a site's wagering requirements clear, to help players assess whether a bonus is worth it. To decide whether any given wagering requirement represents good value it is necessary to know what type of games you prefer.
For example, casino games like blackjack or craps can bear higher wagering requirements, because the house edge is not as high. This means that the chances of an outright win are higher for the player.
Conversely, online slots have the operator's vig in mind, the little spin on the odds to allow the casino to make some money. This means players should only be satisfied with lower wagering requirements, in comparison to the casino favourites.
Country Restrictions
There is no online casino that is permitted to operate in every country. This means that there will always be people blocked from playing due to their location. This has led sites such as sportsbet.io India to concentrate their efforts on regional markets across Asia and Russia.
Transaction Limits
Sites which set their deposit limits too high, or their withdrawal limits too low risk putting punters off. Most players will rather begin the betting with smaller amounts and see how it goes. In contrast, players want to know that if they have a big win. Surely, they don't want any restrictions from cashing out their prize. The min/max figures for sportsbet.io India vary depending on currency the player is using. However, as a baseline, the minimum deposit is INR 1,500, while the maximum payout is INR 2,000.
Sportsbet.io Bitcoin
Although sportsbet.io India imposes some limits on how Bitcoin gamblers can make transactions, it is undoubtedly a crypto-friendly site. The Sportsbet.io casino is very welcoming to crypto users. Moreover, it also has a useful guide to crypto. We find in our Sportsbet.io review that the best ways is to use it on betting sites, with advice for novices and experts alike.
Sportsbet.io Review Customer Service
There are few things more stressful than encountering a problem on a website and having nobody to contact about it. Even worse, you may find an unresponsive email address or phone number. Fortunately, sportsbet.io India has a good reputation for avoiding this torment. 
The sign of a responsible betting site is the number of methods available for contacting customer support. Furthermore, these operatives need to be helpful. FAQs are the first place to go, with the option to move to Live Chat if you remain clueless. Chat options can at least be open for extended hours, if not 24/7. Finally, for those tricky problems where a paper trail is useful, email needs to be available.
Licensing Information
Sportsbet.io has a license by the United Kingdom Gambling Commission. Basically, this means Sportsbet.io is being under supervision by independent third parties to ensure the safety of players.
Sportsbet.io Review – Betting Markets and Casino Games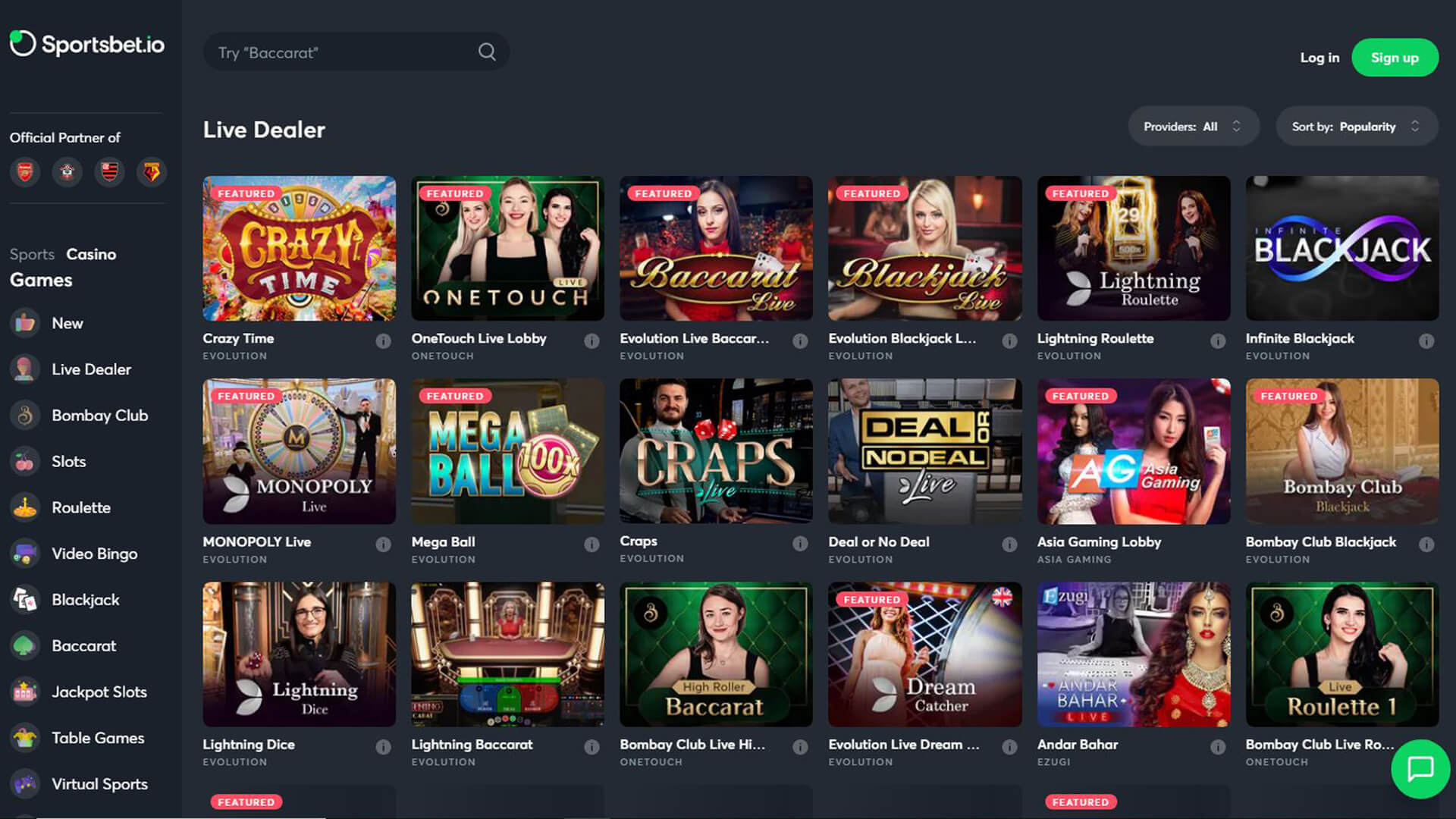 There is a wide range of options for you to bet on with Sportsbet.io. Especially as there are both pre-game and Sportsbet.io live betting markets available. Furthermore, there are also a number of ante-post markets that you can bet on for popular events such as the World Cup, Premier League, and the NBA. The most popular sport that you can bet on with Sportsbet.io is football. Surely, there is an extensive number of markets Sportsbet.io cover. Football bettors can wager their money on Premier League, La Liga, Serie A and Bundesliga fixtures throughout the season. Indeed, this makes Sportsbet.io India the best place for gamblers looking to bet on Football.
Sportsbet.io Cricket Betting and Esports
Unsurprisingly, sportsbet.io India likes to angle its betting markets to reflect the passions of the Indian bettor. With cricket the number one game across India, its hardly a shock that we will take time for a sportsbet.io cricket review.
Sportsbet.io has a good range of cricketing events to satisfy the average fan. It is true that other sites offer more betting markets for cricket. However, there are no complaints about the quality of those on offer at sportsbet io India. Major tournaments such as the CSA 4-Day Franchise Series and the Regional Super 50 give bettors a chance to have a flutter on international cricket matches. Meanwhile, domestic options include the Vijay Hazare Trophy and the Senior Women's Interzonal T20, alongside all the major cricketing leagues.
The site has also been quick to grasp the potential of eSports. As the popularity of video games increasing across the generations, so have the betting opportunities. Players of the most popular games become as feted as the biggest sports stars. Indeed, their competitions are every bit as fierce and exciting. This makes them very attractive for betting at Sportsbet.io.
As we mention, the sportsbook isn't all about football, as there are also Sportsbet.io cricket, American Football and tennis markets available. There are also a number of niche sports that you can bet on, including hurling, floorball and darts. In addition, you can also make wagers on ongoing political events.
Sportsbet.io Betting Features
Sportsbet.io stands out from the crowd as they offer a number of features that you can take advantage of when you are a customer. These are some of the most exciting that you can take advantage of.
Sportsbet.io Live Betting
Live Betting is on offer at all of the leading sportsbooks around the world. Thus Sportsbet.io is no different. Here, you can place bets while the action is in-play on sports such as football, cricket, basketball and hockey. For football, you will be able to bet on markets such as full-time results and both teams to score. 
Build a Bet
Mobile bettors can take advantage of the excellent Sportsbet.io Build A Bet promotion. This will only be available to those that are betting on mobile devices. In brief, this allows you to combine multiple singles into the bet that you want to place.
Sportsbet.io Add2Bet
One of the features that make Sportsbet.io stand out is the Sportsbet.io Add2Bet. This allows you to add multiple selections to an ongoing Sportsbet.io bet that you have already has in place. This saves you from placing another bet if you forgot to add one team to your accumulator. 
Sportsbet.io App Review 
If you're looking to make bets on your mobile device, then you will struggle to find a better sportsbook than the Sportsbet.io app for APK, Android. You can find all of the same markets on the Sportsbet.io app. In addition, new customers can also sign up for their account on the Sportsbet.io app. The Sportsbet.io live betting market is an excellent choice on the Sportsbet.io app. However, the Sportsbet.io app isn't available on iOS devices. However, the Sportsbet.io mobile site ensures that you don't miss the functions as with the Sportsbet.io app.
Pros and Cons of Sportsbet.io
What we liked
Excellent selection of football markets
Dedicated football promotions available
Wide selection of sports covered
What we didn't like
No iOS app
Could be more payment methods
No horse racing markets
Sportsbet.io Review FAQ
Is Sportsbet.io Real or Fake?
Sportsbet.io is 100% legit. Their license from the United Kingdom Gambling Commission highlights that.
How to play at Sportsbet.io?
To sign up, you can choose any of the sportsbooks we recommend and follow one of the links found on this page.
How long is the Sportsbet.io withdrawal time?
Card has a withdrawal time up to five days. However, the ewallet withdrawal time is immediate.
What is a tri bet on Sportsbet.io?
A tri bet splits that range of points margins into three possible outcomes.
How to install Sportsbet.io app?
You can install the Sportsbet.io app on the Android device by searching the name of the sportsbook in your mobile phone browser.
How to get Sportsbet.io free bets?
You will get Sportsbet.io free bonus cash when taking advantage of the welcome bonus.
What is a Sportsbet.io bonus bet?
The Sportsbet.io bonus bet will be awarded to you with this sportsbook after taking advantage of the welcome bonus.
Is Sportsbet.io a legal sportsbook?
Without the seal of approval from an internationally recognized gaming authority like the UKGC, online casinos will always be a dangerous prospect for gamers. Offshore casinos which operate without a proper licence are magnets for cybercriminals and fraudsters. 
How do I utilize a Sportsbet.io
free bet?
There are many ways to activate a sportsbet io bonus. Like other casinos, some kick in automatically upon registration. While others require the input of promotional codes or some trigger event within a game itself.
How can I join sportsbet.io?
Anybody who can produce the right ID documents if they want to register on this site. Sadly, this only applies to residents of the correct countries. In the case of sportsbet.io India. For example, people living in the USA and Australia are out of luck.
How can I deposit and withdraw money from Sportsbet.io?
Setting up your betting account with Sportsbet.io is part of the registration process. After that, it requires funding from outside sources, such as a bank account.
Our Sportsbet.io Review Conclusion
We find that Sportsbet.io is perfect for those Indian players looking to gamble on cricket and football. The Sportsbook offers an extensive selection of welcome promotions that are tailored to the sports betting site in India. In addition, Sportsbet.io cover most popular leagues and competitions throughout the year. The Sportsbet.io welcome bonus is an excellent incentive for new customers. Moreover, the Sportsbet.io live betting markets ensure that you won't get bored with this sportsbook!
Despite its young age, sportsbet.io India has made an incredible impact on the Indian betting market. Surely giving many competitors a run for their money. Avoiding the glamour and glitz of many sites, the spare elegant design of the Sportsbet.io casino seems to be popular among serious players. Equally, its professionalism and commitment to security and fair play have given it a good reputation.
Last Updated on July 11, 2023